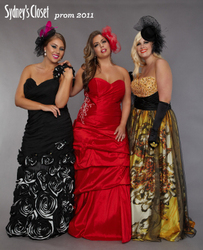 For Prom 2011, the fabulous factor centers on high-voltage dresses guaranteed to pump up the fashion volume.
Saint Louis, MO (PRWEB) February 23, 2011
It's the best of times; it can be the most stressful of times—Prom season! Finding that perfect dress is always the highlight of shopping for Prom night. But it can be tricky staying up-to-date with the hottest Prom dress trends, even for fashionistas in the fast lane.
"For Prom 2011, the fabulous factor centers on high-voltage dresses guaranteed to pump up the fashion volume," says Phyllis Brasch Librach, president and founder of Sydney's Closet®, a niche fashion company that designs, manufactures and sells plus-size Prom dresses. "Striking one-shoulder silhouettes and traffic-stopping prints are in big demand."
This year, even Cinderella gets a fashion jolt, says Librach. "Look for classic ball gowns to get an instant update with multi-colored layers of tulle over eye-popping print skirts."
To make shopping for a prom dress less stressful, the fashion pros at Sydney's Closet share these top 10 dress trends for Prom 2011:
1. A Rosette-y Disposition: fabric twirled into floral rosettes adds a trendy, feminine accent for a prom dress blooming with style.
2. Prints Charm-ing: capture your Prom date's heart wearing multi-color tulle layered over novel graphics or muted florals for an up-to-the-minute Princess look.
3. Easy Breezy: free-moving chiffon or satin dresses in relaxed silhouettes exude a soft, graceful look.
4. One-Shoulder Starlet: make a dramatic entrance wearing this Hollywood design right from the red carpet.
5. Shady Lady: eye-catching ombré fabric subtly progresses from light to dark for a super-sophisticated impact.
6. Untamed Glamour: tiger and zebra stripes, leopard and giraffe spots – oh my! Animal prints show off your wild side before you even hit the dance floor.
7. Cut it Short: whether it's a poufy skirt or a flowing baby doll, hems above the knee show off your sexy legs and hike up the fun factor.
8. Candy Land Colors: bubblegum, grape, lemon drop: great fashion taste comes in delicious colors. Yum!
9. Painted Lady: splashy patterns fresh off a painter's canvas create a Prom dress that doubles as a work of art.
10. Flower Power: buds bloom in all sizes and vivid colors for that very girly look perfect for Spring!
Phyllis Brasch Librach, a former journalist, traded deadlines for hemlines to launch Sydney's Closet® after she failed to find a trendy plus-size Prom dress for her curvy daughter. The company designs, manufactures and sells plus-size special occasion dresses to curvy customers across the U.S. and around the world. Sydney's Closet® sells online at SydneysCloset.com and at a flagship shop in suburban St. Louis. Also, fine bridal salons, dress shops and boutiques nationwide carry Sydney's Closet Signature Collection.
At Sydney's Closet® we're size and deadline sensitive; call us anytime at 888.479.3639.
High resolution images of 2011 Prom dresses designed by Sydney's Closet available upon request.
###