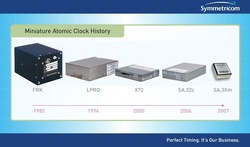 Symmetricom has been the world leader in atomic clocks since 1985
SAN JOSE, Calif. (PRWEB) September 20, 2007
"Symmetricom has been the world leader in atomic clocks since 1985," commented Rajendra Datta, senior director of product marketing for Symmetricom. "With our experience, we have been producing the most technically advanced high precision atomic clocks. Now, Symmetricom offers a major break-through in rubidium oscillator design with the SA.3Xm, the smallest, lightest and most economical rubidium oscillator, making it ideal for deployment in a wide variety of mobile base stations, transmission stations, network elements and other communications equipment."
Atomic clocks provide enhanced accuracy, stability and timing precision compared to quartz-based technologies. Until now, the size and power consumption of existing atomic clock technologies have exceeded that of quartz-based clocks, preventing the deployment of atomic technology in a wider range of applications. The SA.3Xm is smaller than many of the high-end quartz oscillators and matches the same pin-outs and footprint, easing the designer's job in adopting the product.
The SA.3Xm family launches with two versions, SA.31m and SA.33m. The SA.31m is suitable for mobile applications, such as Universal Mobile Telecommunications System (UMTS) or Wideband Code Division Multiple Access (WCDMA). It is an effective solution for independent timing at base stations, as it enables the transition to cost-effective and efficient Ethernet backhaul transport. The SA.33m is applicable for long holdover applications, such as CDMA.
Availability
Prototypes of SA.3Xm's are available now with initial commercial availability in November 2007. General availability is early 2008.
For more information, visit: http://ngn.symmetricom.com/lp/SA_3Xm/.
About Symmetricom, Inc.
As a worldwide leader in precise time and frequency products and services, Symmetricom provides "Perfect Timing" to customers around the world. Since 1985, the company's solutions have helped define the world's time and frequency standards, delivering precision, reliability and efficiency to wireline and wireless networks, instrumentation and testing applications and network time management. Deployed in more than 90 countries, the company's synchronization solutions include primary reference sources, building integrated timing supplies (BITS), GPS timing receivers, time and frequency distribution systems, network time servers and ruggedized oscillators. Symmetricom also incorporates technologies including Universal Timing Interface (UTI), Network Time Protocol (NTP), Precision Time Protocol (IEEE 1588), and others supporting the world's migration to Next Generation Networks (NGN). Symmetricom is based in San Jose, Calif., with offices worldwide. For more information, visit http://www.symmetricom.com.