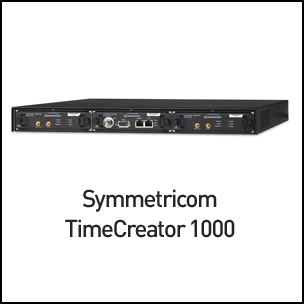 Cable operators have made great strides to upgrade and converge their services onto a unified network architecture
San Jose, CA (PRWEB) January 17, 2007
Symmetricom, Inc. (NASDAQ: SYMM), a worldwide leader in precise time and frequency products and services, today announced that the first DOCSIS® Timing Interface (DTI) Server qualified by Cable Television Laboratories, Inc. (CableLabs®), Symmetricom's TimeCreator 1000, is now available worldwide. TimeCreator™ 1000 is a network time synchronization system specifically designed for cable television communications networks, enabling reliable and precise time and frequency network synchronization that will support new broadband cable services. CableLabs is a nonprofit research and development consortium dedicated to helping cable operator members integrate new cable telecommunications technologies into their business objectives.
Daniel Hickey, vice president of engineering at ARRIS, a global communications technology leader in the development of advanced cable telephony and next generation high-speed data solutions for broadband local access networks, commented, "As we design our DOCSIS 3.0 compliant Modular-CMTS solution, network synchronization is a critical requirement for delivering high-bandwidth services over a distributed architecture. As the first CableLabs qualified DTI Server, Symmetricom's TimeCreator is important to our Cadant® C4® and Keystone™ D5™ M-CMTS development efforts."
The next generation cable network is defined by two standards, DOCSIS 3.0 (Data Over Cable Services Interface Specification) and M-CMTS (Modular-Cable Modem Termination System). With M-CMTS, precise timing is critical to maintaining accurate synchronization across all cable modems. Working with Symmetricom, the cable industry developed the new DTI synchronization protocol to ensure precise time and frequency synchronization for cable networks. CableLabs qualified the TimeCreator 1000 in August 2006 after performance testing and compliance to the DTI specification, ensuring interoperability with other devices on the network.
"Cable operators have made great strides to upgrade and converge their services onto a unified network architecture," commented Jeremy Bennington, business development manager for Symmetricom. "As the cable industry moves quickly to build secure, fast, cost-effective and state-of-the-art networks to support new broadband applications, TimeCreator will provide the necessary timing component for network synchronization."
TimeCreator enables cable operators to deploy new services with flexibility to balance economics, scalability, functionality and carrier class reliability. With optional GPS traceability, redundant clock cards, redundant power supplies and an NTP Server option, TimeCreator 1000 is a fundamental part of a cable operator's headend or hub network deploying M-CMTS, DOCSIS 3.0 or Business Services over DOCSIS. The TimeCreator's integrated DOCSIS Timing Interface Server capabilities ensures that the M-CMTS core, Edge QAM and upstream are synchronized to nanosecond levels to support the existing DOCSIS requirements for frequency and timestamps that existed in traditional CMTS.
In addition to being CableLabs DTI qualified, TimeCreator provides:
Flexibility in a 1RU chassis - 10 standard DTI client connections as well as two dual mode ports that can be used to connect DTI clients or to synchronize the TimeCreator in a slave server mode.
Expandability - TimeCreator can operate as a root or slave DTI server with a GPS option for expanded capabilities and compliance.
High Reliability - Supports carrier class reliability with full redundant clock cards and power supplies to ensure that the critical synchronization of the network is maintained during equipment failure or reconfiguration.
Simplicity and Cost-Effectiveness - TimeCreator can be configured with internal clock redundancy with a single management interface, thus enabling high reliability without the need to install and manage a second DTI Server.
Jeremy Bennington, business development manager at Symmetricom, was an invited speaker at CED Magazine's 3rd Annual Cable Television & Broadband Expo on Thursday, December 7, 2006. Jeremy discussed the new cable synchronization standard, DOCSIS Timing Interface (DTI), and its role in the M-CMTS architecture during the live event that took place entirely on the Web. To review the complete presentation, visit: http://ngn.symmetricom.com/TimeCreator/TimeCreator-1000.ppt.
For more information about the TimeCreator 1000, visit: http://ngn.symmetricom.com/lp/TimeCreator/.
About Symmetricom, Inc.
As a worldwide leader in precise time and frequency products and services, Symmetricom provides "Perfect Timing" to customers around the world. Since 1985, the company's solutions have helped define the world's time and frequency standards, delivering precision, reliability and efficiency to wireline and wireless networks, instrumentation and testing applications and network time management. Deployed in more than 90 countries, the company's synchronization solutions include primary reference sources , building integrated timing supplies (BITS), GPS timing receivers, time and frequency distribution systems, network time servers and ruggedized oscillators. Symmetricom also incorporates technologies including Universal Timing Interface (UTI), Network Time Protocol (NTP), Precision Time Protocol (IEEE 1588), and others supporting the world's migration to Next Generation Networks (NGN). Symmetricom is based in San Jose, Calif., with offices worldwide. For more information, visit http://www.symmetricom.com.
DOCSIS and CableLabs are trademarks of Cable Television Laboratories, Inc.
Contacts:
Raychel Marcotte
BroadPR
617-645-6022
Jeanne Hopkins
Symmetricom
617-818-1785
###