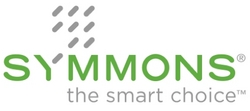 Our goal is to continue offering products that are of high quality and beautifully designed, which will further elevate our brand, making Symmons the smart choice in plumbing products for any residential or commercial project
Braintree, MA (Vocus) October 29, 2009
Symmons Industries is pleased to announce the appointment of Tim O'Keeffe as Chief Executive Officer as of January 1, 2010, following the retirement of Bill O'Keeffe in December. This transition represents the company's third generation of management since 1939.
Symmons Industries was founded by Paul C. Symmons, who created the pressure-balancing, anti-scald technology for the shower valve, an innovation that revolutionized the plumbing industry. This technology has become a standard for safe showering and the platform for the company's seventy years of product development.
"Less than 15% of family businesses successfully transition to the third generation and I am proud that Tim represents the next generation of leadership at Symmons" said Bill O'Keeffe. "Tim shares the same values, drive and vision his grandfather did in the 1940's and I am confident that as a third generation company we will be as strong as ever."
Symmons began as a small shower valve company with a solid commercial customer base in New England. Under Bill O'Keeffe's leadership Symmons remained true to its commercial heritage and the products that have given Symmons its reputation for durability and reliability. In the last decade, Symmons has expanded product lines to include premium bath suites for the homeowner and custom designed bath fittings for commercial projects.
"Our goal is to continue offering products that are of high quality and beautifully designed, which will further elevate our brand, making Symmons the smart choice in plumbing products for any residential or commercial project" said Tim O'Keeffe.
The continued product development and extensive commercial offering have been responsible for the company's significant growth and have increased Symmons' presence within the plumbing fittings market. In the last two years, Symmons has offered over fifty new premium products to the homeowner which has helped establish Symmons in the high-end showroom business.
"Tim's appointment as Chief Executive Officer is a true representation of our company pride and the commitment our family has made to the business. Tim's leadership will continue to strengthen the company and position Symmons for continued growth" said Bill O'Keeffe.
About Symmons Industries
Since 1939, Symmons Industries has been a premier manufacturer of commercial and residential plumbing products. Symmons offers a variety of durable, reliable and beautifully designed plumbing fittings for residential and commercial applications. Symmons pressure-balancing, anti-scald shower valve, in combination with its expansive premium products for kitchen and bath makes Symmons truly the smart choice in plumbing. As an industry leader, Symmons continues to innovate within the custom fittings category, creating distinctive design solutions for premium hospitality and condominium projects. Headquartered in Braintree, Mass., Symmons is a privately-held company with regional sales offices and local representatives located throughout the United States and Canada. For more information, please visit http://www.symmons.com , email info(at)symmons(dot)com , or call 1-800-SYMMONS.
###