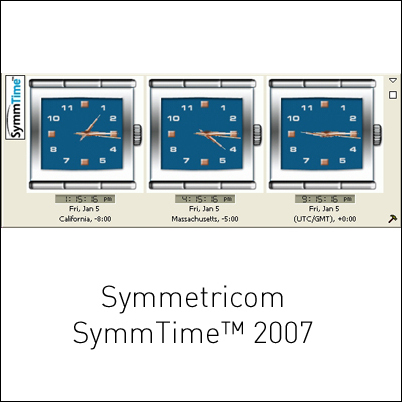 San Jose, CA (PRWEB) January 8, 2007
Symmetricom, Inc. (NASDAQ: SYMM), a worldwide leader in precise time and frequency products and services, today announced the availability of SymmTime™ 2007, the world's most popular, free multi-zone desktop time utility that automatically synchronizes a system clock to any NTP(Network Time Protocol) server on the Internet or local network. Helping people to be on time in multiple time zones around the world, extremely easy and quick to download and install, the latest version of SymmTime is immediately available with various new features at: http://ntp-systems.com/symmtime.asp.
New SymmTime 2007 features include:
Wide variety of clock size choices for desktop, including stylish new analog and digital clock faces
New U.S. Daylight Saving Time schedule for 2007 as well as updated daylight saving and time zone information for every country in the world
Expanded online help documentation
SymmTime 2007 shows users the exact time anywhere in the world. Once it is set up on your computer, you can customize the number of clocks, time zones, clock faces and labels anytime you want. Use the customized time zone clocks when you set up conference calls with offices in far-off countries to be sure you set the correct time for each participant. You can also make sure that you don't mistakenly wake your loved one, who is several time zones away on a business trip.
A wide variety of clock choices including new stylish analog and digital clock faces have been added to SymmTime 2007. The clock faces in the clock panel can be tailored in various ways, including: 1) time zones/cities of your choice, 2) number of clocks on the panel, 3) analog (with clock face and hands) or digital, 4) 24-hour or AM/PM, 5) with or without second hand/seconds counter, 6) with or without city/time zone, 7) colors of the panel and of the clocks themselves, and 8) size, style and color of lettering. You can make any of these changes independent of one another, in any order.
The United States will experience a longer Daylight Saving Time period this year. SymmTime has incorporated not only the U.S. Daylight Saving Time change, but also the Daylight Saving schedules of every country in the world – many of which have changed as well. To make setting up and configuring SymmTime even easier, the online help documentation has also been expanded.
Both current and new SymmTime users can simply download the free software from the web and follow the very simple, intuitive, installation wizard. SymmTime 2007 automatically overrides any prior versions and can be used in Microsoft® Windows PC operating systems, including Windows NT 4, Windows 2000, Windows 2003 and Windows XP.
About Symmetricom, Inc.
As a worldwide leader in precise time and frequency products and services, Symmetricom provides "Perfect Timing" to customers around the world. Since 1985, the company's solutions have helped define the world's time and frequency standards, delivering precision, reliability and efficiency to wireline and wireless networks, instrumentation and testing applications and network time management. Deployed in more than 90 countries, the company's synchronization solutions include primary reference sources, building integrated timing supplies ( BITS), GPS timing receivers, time and frequency distribution systems, network time servers and ruggedized oscillators. Symmetricom also incorporates technologies including Universal Timing Interface (UTI), Network Time Protocol(NTP), Precision Time Protocol (IEEE 1588), and others supporting the world's migration to Next Generation Networks(NGN). Symmetricom is based in San Jose, Calif., with offices worldwide. For more information, visit http://www.symmetricom.com.
Contacts:
Raychel Marcotte
BroadPR
617-645-6022
Jeanne Hopkins
Symmetricom
617-818-1785
###