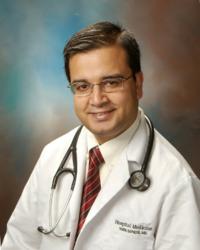 Omaha, Nebraska (PRWEB) January 24, 2012
Nabin Sapkota, MD first stated his claims through his regular medical column in The Columbus Telegram in his article dated January 17, 2012. He has been writing medical articles in the newspaper since November of 2010. His claims did not get wide spread attention until he set up a brand new website based on that idea and updated his claims with anecdotal evidence and explanations. The Nebraska doctor seems so passionate to spread this idea that he has turned it into a book project and has named it symptoms and diagnosis.
"Most people ask the wrong question about symptoms and diagnosis", says the Nebraska doctor. He says the most common question people ask him is: "What are the symptoms of this particular disease?" He believes that it is the wrong question to ask. He warns that people may get into serious trouble by asking that question. He cites the case of a patient who died from a heart attack to prove this point.
He completely rejects the idea that a disease can be defined by a list of symptoms. He says that the traditional teaching of trying to match the symptoms of the patient with known symptoms of a disease does not work. He believes this approach is responsible for the high numbers of wrongly diagnosed cases that we see today. He adds,"That approach would have been great if symptoms were objective data. But symptoms are as subjective as the individual describing them. Symptoms are felt by patients and as you know feeling is very subjective as personal."
In the website, the Nebraska doctor further claims that the ideas of "typical patient" and "common symptoms" only exist in textbooks. In practice, every patient is different and can have different symptoms of the same disease. He further clarifies, "If you really want to make sense of the symptoms, you need to know the patient very well.You need to look at the symptoms of the individual patient in the unique situation and try to think what changes in the body of that patient could produce those symptoms. When you do that, you will get one step closer to getting the right medical diagnosis."
Dr. Sapkota is board certified in Internal Medicine and has been practicing in the Midwest for more than eight years. He did his Internal Medicine residency at John H. Stroger Hospital of Cook County in Chicago, IL. He received board certification by the American Board of Internal Medicine(ABIM) in 2007. He moved to Nebraska after his training and has been here since then.
With the latest update on Jan 21st, his website http://www.symptomsdiagnosisbook.com has been able to create quite a buzz and seems to have received more than three thousand hits in just three days. In the medical community, many doctors seem to agree with his idea but some are opposed to it. Dr. Sapkota seems to be glad to have started the conversation. He intends to put all his argument for his ideas in the book project. He states his goal is to emphasize the patient centered approach to diagnosis by describing symptoms in the context of a real human patient instead of the virtual textbook patient that does not exist. He intends to use plain English without any medical jargon to make the book readable to the general readers. His message seems to be primarily targeted to the patients rather than to the doctors.
###