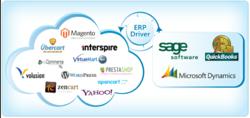 Greenville, SC (PRWEB) April 01, 2013
Companies invest substantial amounts of time and money in developing their E-commerce websites. More and more customers expect this interface but it can often lead to frustration for both the customer and the business. Frustration for the business' employee due to extra work trying to keep the ERP and the Ecommerce site up to date, and customer frustration builds when the E-commerce interface doesn't provide the personalized experience they expect. Website Pipeline's ERP Driver Sync Tool seamlessly brings the E-commerce website and the ERP together.
The new Driver Sync Tool provides communication between enterprise resource software such as Sage and Dynamics and both cloud-based and PHP/MySQL shopping carts. This enables companies to not only get the most from their existing sites, but to choose the shopping cart that best suits their needs without having to compromise on ERP integration. ERP integration ensures the website has up to date product information 24 hours per day, reduces order entry errors because data is only maintained in one place, allows for better data access for customers and utilizes employee time more efficiently.
The standard package addresses the basic data sets, set up and testing. This includes moving the sales information, which includes order details, customers, addresses, and credit card authorization, from the website to the ERP and moving the customer data, product information, inventory, and history from the ERP to the website. This package also includes a cloud-based ERP driver control panel. The panel allows oversight of and control over FTP credentials, individual or comprehensive control over data moves, scheduling of data moves, and an up-to-the-minute activity log. Optional upgrades are available for additional data groups or can be developed for specific needs. The Website Pipeline team adeptly handles enterprise solutions as well. As with any Website Pipeline product, it can be customized to meet the needs of businesses large and small.
Founded on the idea that an E-commerce site works best if it communicates with an ERP automatically, Website Pipeline was built. Since inception back in 1999, Website Pipeline has helped over 1,000 companies run better, more efficient product-based operations by offering complete hosted Ecommerce packages which fully integrate with existing ERPs. By offering the stand-alone Sync tool, more companies can benefit from ERP integration. The new tool empowers any product-based B2B or B2C company with an E-commerce site to optimize their operations by syncing information with their Sage or Dynamics software. The Driver Sync Tool works with E-commerce solutions like Magento, Zen Cart, Volusion, Shopify, OpenCart and many more.
Website Pipeline calls Greenville, SC home but works with companies all across the United States. The company builds, hosts and supports custom websites that integrate with its clients' enterprise resource software and now offers a stand alone sync tool. To learn more about the sync tool visit http://sage300.websitepipeline.com/ or http://dynamicsgp.websitepipeline.com/ to learn more about their other products visit Website Pipeline or watch the video ERP Integration.