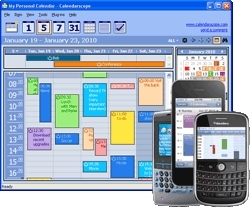 (PRWEB) November 23, 2010
Duality Software announces the release of HandySync for Google, an add-on tool for Calendarscope users to allow seamless data synchronization with Google Calendar and a variety of mobile devices such as Apple iPhone, iPad, iPod touch, Palm Pre, Pixi, RIM Blackberry, and Android.
HandySync for Google is a long-awaited add-on for Calendarscope users in need to synchronize their Calendarscope events with Google Calendar and mobile platforms supporting Google Calendar. HandySync for Google can synchronize Calendarscope data with Apple iPhone, iPad, iPod touch, Palm Pre, Pixi, RIM Blackberry, and Android as well as other communicators via Google Calendar.
The tool offers the choice between full and partial synchronization, allowing users to choose what data is synchronized between Calendarscope and a mobile device. Partial synchronization allows saving the phone's memory by selecting important types of events only, such as only birthdays, appointments, meetings, and so on. Expired data can be removed automatically to release phone memory.
Two-way synchronization is supported. In case of conflicting data contained in Google Calendar, Calendarscope, and the mobile device, HandySync for Google offers a variety of strategies including Latest wins, Calendarscope wins, and Google wins.
About Calendarscope
Duality Software Calendarscope offers a simple way of planning, managing, and scheduling appointments, meetings, vacations, and other events. Supporting daily, weekly, monthly, and yearly patterns, the product offers quick overlook over what's been planned. A network version of the product, Calendarscope Network Edition, makes network collaboration easy by allowing office workers to share calendar events, tasks, appointments and schedules. Calendarscope Network Edition makes a perfect office companion for team work.
Pricing and Availability
HandySync for Google sells for $19.95. A free evaluation download is available at http://www.handysync.net
Calendarscope pricing starts at $29.95 for Standard Edition, with a free evaluation version available at http://www.calendarscope.com
About Duality Software
Founded in 1998, Duality Software is a private software development company offering quality software solutions to businesses and home users worldwide. The company specializes in developing document sharing and collaboration tools for desktops, local networks and online environments.
A free evaluation version of HandySync for Google is available at http://www.handysync.net
###