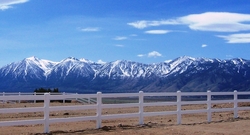 This is the first time that Syncon Homes has offered finished lots for sale to individual buyers in Northern Nevada. We have created an incredible opportunity for anyone looking to build their dream home in the Carson Valley. Thus far, the response from the public has been overwhelmingly positive
Minden, Nevada (PRWEB) September 1, 2008
For the first time, Syncon Homes is offering 1 acre home sites for sale at Skyline Ranch. Located in the beautiful city of Minden, Nevada this new home community strikes a perfect balance between the panoramic views of Jobs Peak and the Carson Valley. Situated above the valley between Carson City and Minden, these 1 acre lots offer the privacy and views you have been looking for. Skyline Ranch residents can take an evening stroll through the neighborhood enjoying the lights of the valley, or take a day hike and roam through acres of near-by federal land.
The finished lots being offered at Skyline Ranch range in size from 1 acre to over 1.5 acres and are ready to build on. Wake up to incredible views of the snow capped Sierras, while being only minutes from the amenities of the Carson Valley. From the views and large lot sizes, to the local amenities and strong sense of community, Skyline Ranch offers everything you want in your new home community. "This is the first time that Syncon Homes has offered finished lots for sale to individual buyers in Northern Nevada. We have created an incredible opportunity for anyone looking to build their dream home in the Carson Valley. Thus far, the response from the public has been overwhelmingly positive," said Zach Streight, Director of Marketing for Syncon Homes. Pricing for these finished lots at Skyline Ranch starts in the high $100,000's.
To visit Skyline Ranch by Syncon Homes from US Hwy 395, turn East on Johnson Lane. Turn left on East Valley Road and finally turn right on Chiquita Drive. Our Sales Office is located at the corner of Chiquita and Terra Court.
To take advantage of this rare opportunity or for more information on Skyline Ranch by Syncon Homes, please call Dan Gearhart or Fran Halverson at (775) 267-1396 or visit the Syncon Homes website at Syncon Homes Community Page.
Built upon three generations of homebuilding expertise, Syncon Homes is a company that prides itself on building superior homes. Syncon Homes was just the 7th Builder in the nation to have all divisions recognized as Quality Certified by the National Association of Home Builders. Syncon Homes has communities throughout Northern Nevada and California.
Contact:
Zach Streight
Director of Marketing
Syncon Homes
775-781-9762
Syncon Homes Web Page
###