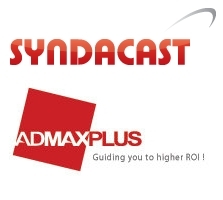 Syndacast has a key role to play as part of our integrated marketing services across Asia Pacific, the name change reflects our commitment to supporting the development of advanced technology to service our clients
Bangkok, Thailand (PRWEB) August 13, 2009
Asia-Pacific digital marketing firm Admax Plus has announced a rebrand that will see the company renamed Syndacast with immediate effect.
Syndacast, part of the DMS group, will strengthen its development strategy in Asia Pacific with an enhanced focus on best-of-breed technology led digital marketing solutions.
With its specialist digital media focus, the company has pioneered the use of innovative and cutting edge digital channels across Asia Pacific, enabling clients to engage with targeted global audiences through search and social media campaigns.
The company's own distribution platform, Syndacast.com, has provided major brands, such as Accor, Nike and Singapore Tourism Board, with the means to develop and execute efficient and effective campaigns based on a continuous personalized dialogue with consumers.
"The digital marketplace is evolving at a rapid pace," said Wolfgang Jaegel, Founder & Regional Managing Director of Syndacast. "The Syndacast rebranding, and our focus on developing advanced tools to automate the delivery of syndicated marketing content, ensures the company and our services remain at the forefront of the digital curve."
"Syndacast has a key role to play as part of our integrated marketing services across Asia Pacific, the name change reflects our commitment to supporting the development of advanced technology to service our clients", comments DMS Group CEO Grant Watts. "Filling the gap between PR firms and creative agencies, Syndacast brings digital engagement to life, allowing marketers and brands to communicate with the right customer, at the right time in the right place."
With the largest digital media network in the Asia-Pacific region, the DMS Group of companies provide a complete range of digital marketing services with a focus on enhanced brand value, ROI and increasing revenue for their customers.
About Syndacast
Syndacast, formerly ADMAX Plus, is a leading search and social media marketing company, providing a wide range of products and services that include digital press release and video syndication, social media marketing, search-engine marketing, online-brand monitoring, and reputation management.
Since the launch of the company, Syndacast has grown to a regional presence and serves global brands including: Accor Hospitality, Singapore Tourism Board, Samsung, Nestle, NIKE, Honda, DBS, Mastercard, HSBC, and more
About DMS Group
DMS Group is the holding company for an integrated group of technology-enabled digital media services. Through continuous innovation we are making it easy for advertisers and their agencies to connect with the right audiences in targeted environments across Asia Pacific.
The group's portfolio includes Admax Network, Syndacast, Impaq and Mediaplus.
###