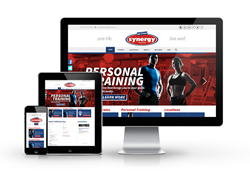 Emily G., from Long Island, recently said, "I'm a new person after training for six months at Synergy. My core is tight, I've lost weight and I feel better than ever. I couldn't recommend this club more. Five stars."
New York, New York (PRWEB) January 09, 2015
With the New Year season coming health and fitness is an increasingly hot topic of thought and conversation for many people. New York's Synergy Fitness Clubs have steadily built their reputation around being the area's premier facilities for helping members transform their bodies for the better each and everyday. Recently, the company announced they have revamped their website presence to better reflect the vision, professionalism and high aesthetics of what has made Synergy Fitness Clubs such an acclaimed training resource. The new site has been met with quick passionate feedback.
"Fitness is our passion here at Synergy Fitness Clubs," commented a spokesperson from the company. "We're very proud of our new website which really does a wonderful job of expressing what we are about."
According to the company, Synergy Fitness Clubs have multiple locations in Manhattan, Queens, Brooklyn, Staten Island and Long Island. All have the same cutting edge approach which combines the best in trainers, equipment, attitude and hours that has won the club such acclaim.
Emily G., from Long Island, recently said, "I'm a new person after training for six months at Synergy. My core is tight, I've lost weight and I feel better than ever. I couldn't recommend this club more. Five stars."
For more information and to see the new website be sure to visit http://www.synergyfitclubs.com/
New York's Synergy Fitness Clubs, an industry leader in modern, professionally staffed fitness facilities recently announced the launch of their new website to better express the vision the company brings to the fitness world. Members and visitors have responded with enthusiasm.