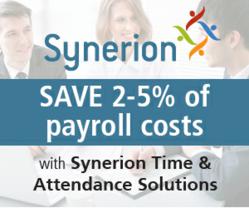 We want to maintain our high levels of customer satisfaction. Synerion was the clear choice to partner with. - Mark Bingeman, President of Bingemans
Misssisauga, Ontario (PRWEB) April 03, 2013
Synerion, a veteran in the Workforce Management Software industry, has announced this week that Waterloo Region's own, Bingemans has selected Synerion Workforce Management Solutions to automate their workforce and pay policies.
"Bingemans is looking to better manage its most valuable asset, its people. This has always been a focus at Bingemans, and as we continue to expand our hospitality business and our offerings to the community, we want to maintain our high levels of customer satisfaction. Synerion was the clear choice to partner with," says Mark Bingeman, President of Bingemans.
Bingemans chose Synerion over other top vendors because their solutions to eliminate previous manual processes were the right fit as their business expands into the future.
"We're very excited to work with Bingemans on this project. They're expanding their services to their customers and as a result need accurate reporting and control of their labour. Synerion was a natural product, service, and partner fit for Bingemans," says Paolo Gilfillan, Director of Sales and Marketing of Synerion North America Inc.
This investment in Synerion is timely for Bingemans as they expand their destination hospitality operations to include a 28-lane Boutique Bowling Center, Kingpin Bowlounge and a Boston Pizza Restaurant and Bar that will also include an extensive outdoor patio and events area.
The Synerion solution will allow Bingemans to scale their business without adding unnecessary costs to effectively and accurately manage the labour force. Also Synerion's Scheduler will allow for Bingemans to ensure they have the right people at the right times to create the positive experience their customers have come to appreciate.
About Synerion
Tracking more than six million employees in various industries, Synerion provides comprehensive Workforce Management (WFM) software solutions and services that enable organizations to effectively optimize their most valuable asset – human resources. Using cutting edge technology and industry best practices, Synerion's WFM Suite offers organizations a set of integrated tools for the measurable management of workforce performance. The solutions help companies meet organizational goals and maximize business performance.
--To learn more about Synerion, visit http://www.synerion.com
About Bingemans
Bingemans has been providing hospitality services within Waterloo Region for over 75 years. Whether guests are visiting Bingemans for a day of fun at Big Splash Waterpark, FunworX, and the camping resort, or attending a conference, wedding, trade show, or gala – Bingemans always seek to provide the highest quality experience possible for our guests.
Bingemans Conference Centre provides the ideal setting for meetings from 10 to 1,200. We offer you 40,000+ square feet of flexible ground floor space, centrally located within Southwestern Ontario, and Canada's Technology Triangle. Our various banquet facilities are located on 170 acres of land, along the picturesque Grand River.
In addition, Bingemans is one of Southwestern Ontario's largest catering companies for both on and off-site events. With over 70 years of successful event experience, we are confident that we will surpass expectations with perfect event execution.
Bingemans is also Waterloo Region's leader in providing the very best in family entertainment, outdoor recreation and camping accommodations. Book your stay at the Bingemans Camping Resort, have some fun in the sun in the Big Splash Water Park, Spray 'N' Play for kids, 11 HUGE Water Slides and so much more, explore FunworX Indoor Playland, Rock Climbing & Ropes, or play a round of golf at Glen Ridge Golf Course. For more adventure, beach it up on one of our 10 outdoor Beach Volleyball courts.
New for 2013 Bingemans will be adding Kingpin Bowlounge and Boston Pizza featuring over 43,000 square feet of upscale bowling, dining & event venue with Waterloo Region's largest outdoor patio.
Fall is a great time for Bingemans when we have our feature events including Screampark (Canada's most terrifying haunted attraction) and the Oktoberfest Kool Haus during KW Oktoberfest (North America's largest Bavarian festival!). There's a lot to do with family and friends at Bingemans.
--To learn more about Bingemans, visit http://www.bingemans.com