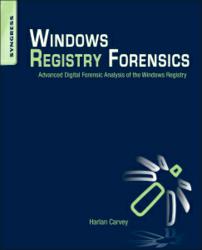 Author of the bestselling Windows Forensic Analysis DVD Tookit, Harlan Carvey brings readers an advanced book on Windows Registry - the most difficult part of Windows to analyze in forensics.
Burlington, MA (Vocus/PRWEB) February 10, 2011
New devices and programs packed with data provide a real challenge for forensics professionals. Now, Syngress has three new books, one by forensics guru Harlan Carvey, that give you the tools to tackle the challenges these new devices present.
"Windows Registry Forensics" by Harlan Carvey is the first book of its kind EVER. Author of the bestselling Windows Forensic Analysis DVD Tookit, Harlan Carvey brings readers an advanced book on Windows Registry - the most difficult part of Windows to analyze in forensics. Windows Registry Forensics provides the background of the Registry to help develop an understanding of the binary structure of Registry hive files. Approaches to live response and analysis are included and tools and techniques for post-mortem analysis are discussed at length. Tools and techniques will be presented that take the analyst beyond the current use of viewers and into real analysis of data contained in the Registry. This book also has a DVD containing tools, instructions and videos.
"It is no exaggeration to say that nearly everything that happens on a Windows system involves the registry-which makes effective examination of the registry absolutely fundamental to good Windows forensics. By devoting a whole book to this critical Windows artifact, Harlan has delivered a much needed resource to everyone doing forensics investigations of Windows systems. " -Troy Larson, Principal Forensic Program Manager, Network Security Investigations, Microsoft
"'Windows Registry Forensics' provides extensive proof that registry examination is critical to every digital forensic case. Harlan Carvey steps the reader through critical analysis techniques recovering key evidence of activity of suspect user accounts or intrusion-based malware… This book is a must have reference for current forensic knowledge of the Microsoft Registry Windows XP through Windows 7 and should become core knowledge for any serious digital forensic investigator." - Rob Lee, SANS Institute
"XBOX 360 Forensics" by Steven Bolt. Game consoles have evolved to become complex computer systems that may contain evidence to assist in a criminal investigation. From networking capabilities to chat, voicemail, streaming video and email, the game consoles of today are unrecognizable from complex computer systems. With over 10 million XBOX 360s sold in the United States the likelihood that a criminal investigator encounters an XBOX 360 is a certainty. The digital forensics community has already begun to receive game consoles for examination, but there is no map for them to follow as there may be with other digital media. XBOX 360 Forensics provides that map and present the information for the examiners in an easy to read, easy to read format.
"Cybercrime and Espionage" by Will Gragido and John Pirc provides a wealth of knowledge related to the realities seen in the execution of advanced attacks, their success from the perspective of exploitation and their presence within all industry. This book will educate you on realities of advanced, next generation threats, which take form in a variety ways. The authors, working in conjunction with strategic technology partners have key insights into the realm of what these new threats, dubbed "Subversive Multi-Vector Threats" or 'SMT's. Whether the goal is to acquire and subsequently sell intellectual property from one organization to a competitor or the international black markets, to compromise financial data and systems, or undermine the security posture of a nation state by another nation state or sub-national entity, these threats are real and growing at an alarming pace.
About the Authors
Harlan Carvey (CISSP) is a Vice President of Advanced Security Projects with Terremark Worldwide, Inc. Terremark is a leading global provider of IT infrastructure and "cloud computing" services, based in Miami, FL. Harlan is a key contributor to the Engagement Services practice, providing disk forensics analysis, consulting, and training services to both internal and external customers. Harlan has provided forensic analysis services for the hospitality industry, financial institutions, as well as federal government and law enforcement agencies.
Steven Bolt is a Computer Forensics Leader, Instructor and course developer at the Defence Cyber Investigations Training Academy. In this position he provides instruction and guidance to support the criminal investigators of the DoD and other federal investigators. He has spoken at many national and international conferences on topics ranging from Onion routing to investigation of SOHO networks.
Will Gragido is a former United States Marine and began his career in the data communications information security and intelligence space. He is a seasoned information security and risk management professional with over 15 year's professional industry experience and brings a wealth of knowledge and experience to bear. Will is a long-standing member of the ISC2, ISACA, and ISSA. He holds the CISSP and CISA certifications, as well as accreditations in the National Security Agency's Information Security Assessment Methodology (IAM) and Information Security Evaluation Methodology (IEM).
John Pirc has more than 10 years of hands on security experience in security research, worldwide product management/development, security IV&V testing, forensics, and architecting/deploying enterprise wide security solutions for both public and private organizations worldwide. John has worked for the Central Intelligence Agency, Computer Systems Group LTD, Cisco Systems, IBM and McAfee. John was recently named security thought leader from SANS Institute and advisory board member of SANS Execubytes publication.
About Syngress
Syngress provides books for professionals who want theoretical as well as tactical information on securing in the digital world. Whether you are complying with regulations, breaking or protecting a system, or analyzing a system and extracting evidence, we have high quality expert advice to make you better at what you do. Syngress publishes in the areas of Digital Forensics, Hacking and Penetration Testing, Certification, IT Security and Administration, and more.
About Elsevier
Elsevier is a world-leading publisher of scientific, technical and medical information products and services. The company works in partnership with the global science and health communities to publish more than 2,000 journals, including The Lancet and Cell, and close to 20,000 book titles, including major reference works from Mosby and Saunders. Elsevier's online solutions include SciVerse ScienceDirect, SciVerse Scopus, Reaxys, MD Consult and Nursing Consult, which enhance the productivity of science and health professionals, and the SciVal suite and MEDai's Pinpoint Review, which help research and health care institutions deliver better outcomes more cost-effectively.
Contact: Dan O'Connell, Publicity Manager
Elsevier Science & Technology Books
p: 781-313-4726
c: 978-944-2879
d(dot)oconnell(at)elsevier(dot)com
###