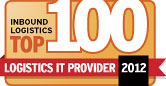 Inbound Logistics editors selected Syntelic for its consistent ability to deliver innovative solutions empowering logistics and supply chain excellence.
Germantown, MD (PRWEB) April 29, 2012
Inbound Logistics this week announced that Syntelic Solutions Corporation was named to the prestigious Top 100 Logistics IT Providers listing of software and technology providers for 2012.
"When choosing this year's Top 100 Logistics IT Providers, Inbound Logistics editors looked for technology providers that solved specific logistics challenges, but also acted as change agents by helping to transform overall business operations," says Felecia Stratton, Editor, Inbound Logistics. "Selections were based on how transformative logistics IT solutions impact all business activities and drive integration across internal processes as well as external processes for vendors and customers. Syntelic Solutions Corporation was selected because its solutions work tactically to master supply chain transactions, as well as strategically to act as a change agent to drive the enterprise to more closely match demand to supply. Inbound Logistics is proud to honor Syntelic for innovative solutions empowering logistics and supply chain excellence."
Syntelic is known for its private fleet transportation analytics software that provide accurate and comprehensive plan vs. actual drill downs and scorecarding. Syntelic also provides robust trailer optimization, load mapping, and inbound and outbound execution visibility solutions, as well as multi-mode voice-enabled selection. Syntelic software is used daily by leading distribution companies throughout the United States for route optimization and lower operating costs.
Says Syntelic's president, Matthew Bent, "Inbound Logistics has high standards for selecting companies to be included on its Top 100 Logistics IT Providers list. We are very pleased to be recognized for Syntelic's impact for optimizing supply chain processes."