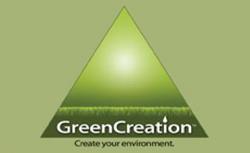 "We got started with this business and TigerTurf when we sought to address a safety and aesthetics issue for the Department of Transportation. TigerTurf developed a great solution...," said Gary Bradley, GreenCreation's VP of Sales and Marketing
Greensboro, NC (PRWEB) March 9, 2010
World leading synthetic turf manufacturer TigerTurf, with customers and operations in five continents, proudly announces GreenCreation has joined its select network of Authorized Representatives.
GreenCreation, headquartered in Greensboro, N.C., designs, constructs, installs and maintains all levels of sports fields, playgrounds and commercial and residential landscape systems. The company, which has been working with TigerTurf for less than a year, has already installed a TigerTurf playground for Extreme Makeover Home Edition and numerous other TigerTurf synthetic grass solutions.
"We got started with this business and TigerTurf when we sought to address a safety and aesthetics issue for the Department of Transportation. TigerTurf developed a great solution, we love the product and the people and with them, our business has really taken off," said Gary Bradley, GreenCreation's Vice President of Sales and Marketing for wholesale artificial grass.
"We anticipate it will continue to grow rapidly, as we've got terrific ingenuity and support through TigerTurf, and we're now creating a network of Quality Dealer and Installation Partners so we can deliver TigerTurf synthetic grass to a wider array of customers throughout the southeast," added Bradley.
For TigerTurf, GreenCreation is an "ideal" Authorized Representative because of the company's creativity and enthusiasm, said TigerTurf Americas director Charles Fleishman. "They're solution-driven, they lead with integrity and they enjoy what they do - an ideal team," he stated.
Among GreenCreation's upcoming sports and landscape projects is a new one for the company: a futsal field, which will be installed for the Futsal Factory in downtown Charlotte this spring. GreenCreation worked with TigerTurf to develop a surface with specific characteristics to support futsal, a variation of soccer most often played indoors with a special, low balance ball.
Among those first to use the system will be the Mexican National Futsal team, which Bradley said is eager to experience the unique new surface prior to their 2010 World Cup Friendly Match.
###