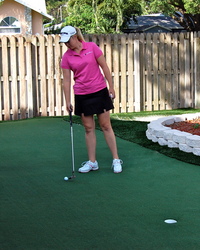 I loved the quality, accessibility, and how life-like the synthetic putting greens and fringe play
Seminole, FL (PRWEB) October 9, 2009
Rising LPGA player Brittany Lincicome, who ranked 3rd in driving distance in 2009, keeps her game in top form by spending hours a day putting on a Golf Greens Fore U green in her family's backyard.
Synthetic turf manufacturer Golf Greens Fore U, supplied and installed the green, which offers a multi-directional true roll putt from any angle, capturing the true essence of the natural putting green.
Lincicome kicked off the 2009 season by winning the esteemed Kraft Nabisco Championship. Other recent accomplishments including achieving several Top ten finishes, including placing 5th in the US. Women's Open in 2009, taking 3rd at the LPGA Takefuji Classic, and 7th at the U.S. Women's Open Championship in 2006. In her rookie year in 2005, Lincicome led the LPGA in driving distance with an impressive 270.3-yard average. In 2006, her driving average increased to 278.6 yards which ranked 2nd among all LPGA players.
Enthusiastic about the accessibility of a backyard green, Lincicome says her Golf Greens Fore U putting green is an in instrumental tool in her improved short game on tour. "I loved the quality, accessibility, and how life-like the synthetic putting greens and fringe play," says Brittany Lincicome. "Practicing at home on my Golf Greens Fore U synthetic turf definitely improved my game."
Since the product is a true simulation of a real green, players can get the most from their practice, resulting in lower scores," says Victor Estrada, Director of Corporate Sales, Golf Greens Fore U. Adding to her success is the loving family that enjoys spending time practicing with Brittany on the benchmark Golf Greens Fore U putting green." Golf_Greens_Fore-U is headquartered in Red Bank, New Jersey.
Golf Greens Fore U and Olympia Turf manufactures and installs synthetic turf for putting greens, replacement lawn, golf courses, playgrounds and sports fields. The exclusive "multi-directional" putting turf designed provides a skill-building putting surface and simulates a real green. The sports field synthetic turf is branded under the name Olympia Turf and offers cutting-edge technology. All synthetic turf products from Golf Greens Fore U/Olympia Turf are 100 lead-free, environmentally-friendly and made from 70 percent recycled materials.
Visit Golf Greens Fore U on the web at http://www.GolfGreensForeU.com. For more information, call Tina Bradford Public Relations at 610-248-3460 or email Tina(at)TinaBradfordPR.com. The headquarters for Golf Greens Fore U is located at 119 Shrewsbury Ave , Red Bank, NJ
###