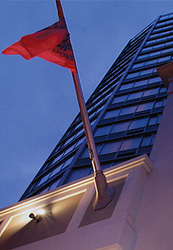 Syracuse, NY (PRWEB) October 30, 2009
The Renaissance Syracuse Hotel is offering two spa packages for guests who need a bit of rest and relaxation. One of these Syracuse day spa packages is for couples, while the other was created specifically for individuals. Both packages are full of relaxing treatments provided by skilled and trained professionals to leave guests feeling reinvigorated.
The Couples' Retreat SpaZend Package gives couples the chance to enjoy their treatments side by side. The spa in Syracuse has a special Couples' Room that guests will use when they choose this package which includes deluxe accommodations at the Syracuse hotel and a side by side 80 minute ZendBlend Aromatherapy Massage. Guests will also get to pick the type of ZendBlend massage oil they want to use for their massage. The different oils can enhance the experience for guests and allow them to tailor the experience to their own unique requests.
Rates start at $349 for the Couples' Retreat SpaZend Package. The offer is valid through April 30th, 2010 and guests must make sure the promotional code ES8 appears in the Corporate/Promotional Code box.
Individuals can choose the Energize and Revitalize SpaZend Package. Those who choose this package will receive deluxe accommodations, one Thai Poultice massage, one Royal Thai & Aromatherapy Massage and the choice of an Express Refresh Facial or First Rain Foot Treatment.
This package is valid through April 30, 2010. Rates start at $299. The promotional code SPA must appear in the Corporate/Promotional Code box in order to take advantage of this special deal.
Appointments are available at the spa Monday through Saturday.
For more information about spa packages for individuals and couples, visit http://www.marriott.com/hotels/travel/syrbr-renaissance-syracuse-hotel or call 1-315-479-7000.
About the Renaissance Syracuse Hotel
The Renaissance Syracuse Hotel is the only full service Marriott in the area. The hotel is close to Syracuse University, as well as many other businesses and attractions. Guests enjoy convenient access to highways I-80 and I-90, as well as everything downtown Syracuse has to offer.
# # #