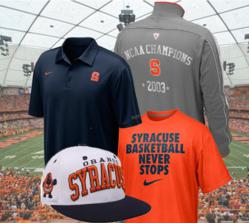 Uniting our athletics department with the extensive merchandising experience TeamFanShop brings to the table is an exciting time for Syracuse University.
Jacksonville, FL (PRWEB) February 13, 2012
A division of Fanatics, Inc., TeamFanShop is the market leader in licensed sports e-commerce and fulfillment services and brings more than a decade of industry knowledge to the official online store of Syracuse University Athletics. Signed on February 6, the new multi-year agreement between the Syracuse Orange and TeamFanShop includes a complete e-commerce package such as the online shopping platform, merchandising and inventory management, marketing solutions, and 24-hour customer service.
The Syracuse Orange team store, Shop.SUAthletics.com, is home to more than 650 quality-made team products across the most popular name brands in retail. Although the large assortment of officially licensed merchandise is prominent throughout the online Syracuse store, a great e-commerce site also incorporates the total customer shopping experience and TeamFanShop provides the tools to do just that. Syracuse fans can now enjoy flat rate shipping, 365-day returns and an unconditional satisfaction guarantee. The site also accepts all major credit cards and check cards, in addition to a Google Checkout payment option.
"We are pleased to unveil the newly transformed Syracuse Orange Athletics shop to our fans worldwide," said Syracuse Associate Athletics Director of Marketing & Licensing Marc Donabella. "Uniting our athletics department with the extensive merchandising experience TeamFanShop brings to the table is an exciting time for Syracuse University."
Nike and Original Retro Brand are two predominant brands featured on the Syracuse University Athletics storefront. The Nike Micro Store is a second Syracuse site which TeamFanShop launched at the same time, encompassing all Nike apparel for the Orange. Both sites highlight multiple departments for men, women and kids including game day wear, t-shirts, hats, jerseys, sweatshirts and more.
"With the help of our parent company, Fanatics, TeamFanShop is able to offer Syracuse University Athletics and all partners an incomparable service that combines sports licensing, manufacturing and e-commerce results," commented Senior Vice President of Strategy and Business Development at Fanatics, Brian Swallow. "By utilizing retail strategy, we are confident in our efforts to grow the official fan shop of the Syracuse Orange."
– Syracuse University: New York's College Team
ABOUT FANATICS/TEAMFANSHOP
TeamFanShop, Inc., is a leading provider of e-commerce solutions and division of Fanatics, Inc., the world's largest online retailer of officially licensed sports merchandise for collegiate institutions, professional sports teams & leagues, conferences, and media networks. Fanatics encompasses four sectors: direct-to-consumer retail, third-party e-commerce syndication, licensing and manufacturing, and fulfillment services. Proprietary brands of Fanatics include Football Fanatics, one of the most trafficked sports fan gear sites online, as well as the official online stores of the NFL, NBA, NHL, MLB and NASCAR. Other partners include Yahoo! Sports, CBS Sports, FOX Sports, Oklahoma Sooners, Florida Gators, Oregon Ducks, New York Giants, Denver Broncos, Tampa Bay Buccaneers, Orlando Magic, The Southeastern Conference, The Atlantic Coast Conference, The PGA, and Team USA, among many others. With the help of industry veteran and CEO of Fanatics, Alan Trager, Fanatics combines best-of-breed e-commerce hosting and retail strategy with highly-efficient order fulfillment, secure shopping solutions, and customer relationship management to help partners fully monetize their official websites. Learn more about Fanatics at http://www.fanatics.com.
###