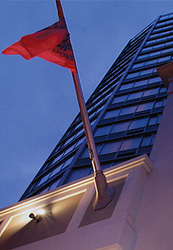 Syracuse, NY (PRWEB) June 3, 2010
Making dreams come true for terminal breast cancer patients is the goal of a "Nationwide Tour of Gowns" sponsored by Brides Against Breast Cancer(TM) that is coming to the Renaissance Syracuse Hotel July 16-18. This nationwide charity wedding gown sale allows brides-to-be the opportunity to find their dream gown, usually at an extraordinary savings, while making wishes and dreams come true for those who champion the fight against breast cancer.
The Renaissance Syracuse Hotel is donating use of facilities which are more often used to host spectacular Syracuse wedding receptions and other New York social gatherings for this special charity event set to kick off on Friday, July 16 with VIP Night from 6 to 10 p.m. Brides participating in this special Preview Sale will be among the first to browse through nearly 1,000 exquisite name brand and designer gowns, and enjoy incredible savings of 25% to 75% off prices of up to $8,000. Dresses included in the Brides Against Breast Cancer wedding gown sale are donated to the charity by designers, retailers, manufacturers and individuals with prices starting at $199. Couture Collection gowns are priced 35% to 75% off retail. Cost of the VIP Night showing is $25 per bride and $10 for guests. Brides will have the opportunity to select, try on and purchase their perfect dress ahead of the crowds that will follow on Saturday and Sunday. A mini bridal show offered by local vendors will also be presented during this special evening. Admission to the show on Saturday and Sunday is free. All proceeds from the event benefit the Making Memories Breast Cancer Foundation(TM) . For more information about Brides Against Breast CancerTM, visit their website at http://www.BridesAgainstBreastCancer.org.
With an easily accessible location and a full menu of services, the Renaissance Syracuse Hotel is a popular downtown venue whether planning a company business meeting or a once-in-a -lifetime wedding reception. Syracuse guests will find spacious rooms with comfortable amenities including oversized work areas with task lighting and ergonomic chairs, cable/satellite service, premium movie channels and beds that feature luxury bedding ensembles to help ensure a good night's rest. SpaZend, a full service Asian-inspired Syracuse day spa, is located just a few steps away to accommodate guests seeking the ultimate rejuvenation experience.
About the Renaissance Syracuse Hotel
The Renaissance Syracuse Hotel is located in the heart of downtown Syracuse, adjacent to Syracuse University and with convenient access to Highways I-81 and I-90. In addition to social event space, this hotel features a state-of-the-art Conference Center, wired and wireless high-speed Internet access and a full-service business center. The hotel's Horizon's Ballroom is the "Talk of the Town" featuring a full 360º view from 20 stories above the Syracuse skyline and offering a unique venue - one that is more thrilling than a traditional Ballroom setting. And, with the Renaissance's accomplished culinary team working to create finest menus using ingredients from all over the world, while specializing in indigenous and regional produce, events at this Syracuse hotel are sure-fire hits with guests.
# # #