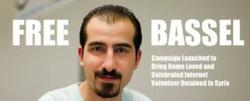 (PRWEB) December 14, 2012
SEO demands immediate release of Bassel Khartabil, a young computer engineer, whose exceptional programming skills was an influential factor that helped connecting Syria into the online community. Bassel was hauled off by Assad's security forces in March, and has not been heard from since, according to foreign policy. SEO holds Bashar al-Assad and Syrian regime accountable for Bassel's safety and directly responsible on the human right violation against Bassel Khartabil.
According to Amnesty International, "Bassel Khartabil, aged 31, was arrested on 15 March 2012 as he left work in the al-Mezzeh district of Damascus. It is believed that he was detained by individuals working for one of the various security forces operating in Syria. One week after his arrest, Bassel Khartabil was briefly brought to his home by some members of the security forces, who confiscated his computers and files." Bassel, recently, has been transferred to a military prison, according to eff.org, which imposes an additional fear on Bassel's life, given the facts surrounding these "Military Field Courts" which according to a report published by Reuters on Aug 8, 2012,;" are composed of military judges and have jurisdiction over crimes committed during wartime and military operations, 'Accused persons before these courts have no right to defense and proceedings are conducted in secret. These courts do not apply existing laws or procedures and their decisions are final, not subject to any form of appeal or review.' "
see: http://www.reuters.com/article/2012/08/08/us-syria-crisis-darwish-idUSBRE87711B20120808
"Bassel is well-known for his contribution to the open web. He was a leader in his field of the open-source web software called Aiki Framework, and a dedicated volunteer to major internet projects like Creative Commons, Mozilla Firefox, Wikipedia, Open Clip Art Library, Fabricatorz, and Sharism." Mr. Mustafa Safiia, SEO PR member, said, " Bassel is a promising young engineer, energetic and creative. He was named by Foreign Policy magazine as #19 on its 2012 list of Top Global Thinkers for 'Insisting, against all odds, on a peaceful Syrian revolution.'" added Mr. Safiia.
SEO reiterates what Bassel had tweeted just a few weeks before his arrest "The people who are in real danger never leave their countries. They are in danger for a reason and for that they don't leave."
SEO Demands immediate and unconditional release of Bassel Khartabil, and urges the Human Rights Watch and the Amnesty international organization to utilize all needed measures that will ensure his safety. SEO holds Bashar al-Assad direct responsibility for human rights violations that have been perpetuated against Bassel Kahartabil.
The Syrian Expatriates Organization is a leading nonprofit organization of Syrian Americans and Syrian Canadians. Its mission is to support the establishment of a free and democratic Syria. he SEO provides humanitarian relief to those in need and works to promote the social, political and economic development of Syria.
http://www.foreignpolicy.com/articles/2012/11/26/the_fp_100_global_thinkers?page=0,18#thinker19
http://freebassel.org/
http://www.amnesty.org/fr/library/asset/MDE24/076/2012/fr/50fb59c2-c31e-4a98-bd27-61c423c87b38/mde240762012en.html
https://www.eff.org/deeplinks/2012/12/open-source-software-developer-bassel-khartabil-moved-syrian-military-prison