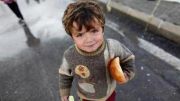 Washington, DC (PRWEB) December 17, 2012
Syrian Expatriates Organization in cooperation with Life for Relief and Development, have launched a donation campaign to help Syrians struggling to survive. The cause is called #Bread4Syria. Dr. Hassan Masri, the spear header of the campaign, and about 30 activists in the US and Canada are rallying support to help feed Syrians on the ground. "I believe that everyone has a sense of humanity and is willing to contribute if the story is one they can relate to. We have setup this cause as a competition between regions in the US and Canada. It's an effort to rile up support amongst the activists and their followers. The positive energy and competitiveness amongst regions has been a great way to bring attention to the real goal--feed the hungry in Syria."
The #Bread4Syria cause is a serious effort to help internally displaced Syrians; a small donation of $10 will feed a hungry Syrian for a week. The SEO views this project as an imperative undertaking to help those that have been substantially impacted throughout the 21 month uprising; families are struggling for their basic food necessities such as bread and milk.
The Guardian addresses the detoriating food crises as the following, "With Assad's regime targeting bakeries, displaced families are starving as harsh weather compounds the struggle for food." Furthermore, they point out that "there is overwhelming evidence that the military forces of Syria's President Bashar al-Assad have deliberately targeted bakeries, in what appears to be official policy to starve rebel areas into submission."
http://www.guardian.co.uk/world/2012/dec/13/syria-refugees-starvation-humanitarian-disaster
Dr. Hassan Masri, "The estimates state that there are about 2.5 million internally displaced Syrians. Entire families and neighborhoods in Syria are starving as the winter hits full force. Food is difficult to obtain and risky to access as the Assad regime targets bakeries and prices of basic supplies of bread and milk are sky high." Masri adds, "We cannot remain idle and watch as their health dwindles because of a basic necessity; we urge individuals to be part of an honorable cause to fight hunger inside Syria."
http://www.reuters.com/article/2012/11/13/us-syria-crisis-displaced-idUSBRE8AC0EH20121113
For more information, to join the facebook event page and to donate, please visit the links below.
https://www.facebook.com/events/419365258133328/