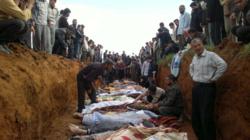 Michigan, USA (PRWEB) April 06, 2012
Syrian Expatriates (SEO) and the Supreme Council of Syrian Revolution call upon the United Nations to send qualified monitors into Syria immediately and in advance of the April 10th deadline to ensure Assad's compliance with the initial requirement of the Annan "Six Points Plan."
http://www.reuters.com/article/2012/04/05/us-syria-ceasefire-idUSBRE8330HJ20120405
Annan's plan calls for Damascus to pull back troops and heavy weaponry in order that there be a full ceasefire 48 hours following the April 10th deadline.
SEO joins other opposition groups in their skepticism over Assad's compliance with the Annan Plan.
On April 5th, Annan addressed the Security Council, which then adopted a "presidential statement" endorsing next week's deadline and warning Damascus of "further steps" if Syria did not meet the deadline.
As Reuters reported: "The Security Council calls upon the Syrian government to implement urgently and visibly its commitments, to a) cease troop movements toward population centers, b) cease all use of heavy weapons in such centers, and c) begin pull back of military concentrations in and around population centers."
http://www.reuters.com/article/2012/04/05/us-syria-un-idUSBRE8340T420120405
SEO's government affairs director, Mazen Asbahi, stated: "Given Assad's lack of honoring prior commentments and in light of current reports of intensifying military attacks by Assad's forces across several areas in Syria, we are doubtful of Assad's intention to completely fulfill his agreement by the set deadline. In addition, we are concerned that Assad may stage fake attacks on his own forces and blame the FSA in a sorry attempt to gain time. For those reasons, it is absolutely critical that the UN place qualified monitors on the ground and in all stronghold areas in advance of the deadline. Their presence will help ensure compliance and avoid giving Assad a pretext to continue his shelling of civilian areas."
SEO shares the UN and Arab League envoy's sense of urgency that a cease-fire take hold. SEO also calls on the Assad Regime to implement the other elements of the Annan Plan, including the release of all detainees and permtting international journalists in Syria to report on developments.