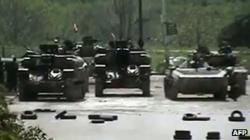 MI, USA (PRWEB) April 12, 2012
Syrian Expatriates reiterates the Syrian National Council's call for the UNSC to hold an urgent meeting to adopt a resolution, under Chapter VIII, which provides for the protection of civilians inside Syria.  
http://www.syriancouncil.org/en/press-releases/item/619-snc-calls-for-urgent-intervention-to-stop-the-massacres.html
April 12th marks the deadline for implementation of ceasefire in accordance with Kofi Annan's 6-Point Plan. Dr Iyad Azrak, SEO Chairman, states, "As expected, Assad has failed to meet his commitment and is seeking to shift the blame to the opposition. This does not come as a surprise and is consistent with Assad's prior disregard of international calls to stop the bloodshed."
On April 11th, U.S. Ambassador to the UN Susan Rice, said, "Syria's commitments have little if any credibility. Commitments have been made and made and made and broken and broken and broken."
http://www.bloomberg.com/news/2012-04-11/western-powers-doubt-syria-will-meet-cease-fire-deadline.html
Human Rights Watch issued a report on Monday April 10th which stated that "Syrian security forces summarily executed over 100 – and possibly many more – civilians and wounded or captured opposition fighters during recent attacks on cities and towns." Furthermore, Human Rights Watch called on the UN Security Council to "ensure that any UN mission mandated to supervise the six-point plan brokered by the UN-Arab League envoy Kofi Annan would be in a position to document such crimes. This would be best achieved by sending, alongside military observers, properly equipped human rights monitors able to safely and independently interview victims of human rights abuses, while protecting them from retaliation."
http://www.hrw.org/news/2012/04/09/syria-extrajudicial-executions
 
Mazen Asbahi, Government Affairs Director of the Syrian Expatriates, states, "Instead of meeting the terms of the Kofi Annan plan, Assad has not withdrawn his forces. Assad continues his crimes against the Syrian people, as evidenced by the significant increase in the bloodshed, brutality and repression of civilians all around the country. The deteriorating situation inside Syria only further reinforces the critical need for the UNSC to take immediate action and create a 'safe zone' to protect civilians, How many more have to die before the international community takes decisive action?"
The Syrian Expatriates is a leading nonprofit organization of Syrian Americans and Syrian Canadians that reflects the diversity and talent of the Syrian nation. Its mission is to support the establishment of a free and democratic Syria. In addition, the Expatriates provides humanitarian relief to those in need and organizes and sponsors efforts to support the social, political and economic development of Syria.
 
For more information regarding Syrian Expatriates, please visit our website: http://www.syrian-expatriates.org.