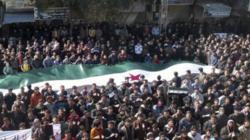 Syria (PRWEB) March 16, 2012
March 15th marks the first anniversary of the Syrian Revolution, when the Syrian people took to the streets en masse in a peaceful demonstration to demand freedom and democratic country.
Syrian Expatriates Commemorates the 1st anniversary of Syrian revolution.
Dr Abdoulla Shahin, SEO board member said,"It was an extremely hard year on Syrians, both inside and out. As Syrians began their peaceful protest last year, demanding freedom and dignity, Assad regime responded by increasing crackdown and committing more atrocities. People were detained, tortured to death, killed and deprived of their basic needs. The whole world witnessed the besieged cities shelled and annihilated. People fled their homes and became refugees in the neighboring countries. But, in spite all of these sufferings, Syrians persevered and showed commendable courage and tolerance."
The United Nations estimates that more than 8,000 people, mostly civilians, have died in the fighting. Some 230,000 Syrians have been displaced from their homes, including 30,000 who have fled abroad, raising the prospect of a refugee crisis, according to Reuters reports.
http://www.reuters.com/article/2012/03/15/us-syria-idUSBRE8280G820120315
DR Mazen Hasan, SEO founder, said,"While the Assad regime atrocity against Syrian is still ongoing, and the plight on civilians is growing, Syrian Expatriates stresses the importance of the role of international community through the United Nations to adopt resolution that protects civilians according to the International Humanitarian Laws."
http://www.icrc.org/ihl.nsf/full/380
As the Syrian revolution enters its second year, SE mourns our martyrs, and reiterates its complete support to the Syrian cause, and Syrian people in their struggle for freedom.