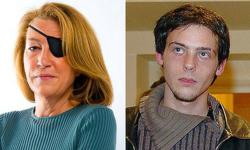 Homs- Syria (PRWEB) February 23, 2012
The Syrian Expatriates Organization condemns The Assad regime forces for the death of Western journalists early on Wednesday morning.
According to Reuters; "American correspondent Marie Colvin and French photographer Remi Ochlik, both prize-winning veterans of war, were killed in the besieged Syrian city of Homs on Wednesday when rockets fired by government forces hit the house they were staying in, opposition activists and witnesses said."
http://www.reuters.com/article/2012/02/22/us-syria-journalists-idUSTRE81L0FU20120222.
''watched a baby die today. Shrapnel, doctors could do nothing. His little tummy just heaved and heaved until he stopped. Feeling helpless,'' The Sunday Times reporter Marie Colvin wrote yesterday in a closed Facebook page for journalists.
''In Baba Amr. Sickening, cannot understand how the world can stand by and I should be hardened by now.''
http://www.smh.com.au/world/rocket-attack-kills-two-journalists-20120223-1topd.html#ixzz1n9r529Uw
The latest assault by Assad forces had produced 68 deaths, bringing the death toll to 7,636 as reported by the head of the Britain-based Syrian Observatory for Human Rights, Rami Abdel Rahman reported in the Dailystar.
http://www.dailystar.com.lb/News/Middle-East/2012/Feb-22/164212-syria-death-toll-reaches-7636-since-last-march-watchdog.ashx#ixzz1n9sKiz4B
Dr Abdullah Shahin, an SEO board member, said," Journalists are amongst the latest deaths that are starting to mount in an effort to control information flowing into the rest of the world. Assad's government forces have been pounding areas resisting government control where brave journalists stay to deliver the story on the ground. Journalist's fearless efforts to collect the truth inside Syria is an outstanding example of courage."
SEO would like to extend condolences to the families and friends of the journalists killed in Syria, they will be remembered for their heroism and bravery. SEO appreciates the risks and sacrifices these journalists took to ensure the voices of the Syrian people are heard.
# # #