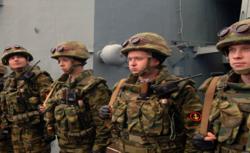 (PRWEB) March 20, 2012
Syrian Expatriates is deeply disturbed by the news that Russia is sending special anti-terror troops to Syria; and considers this step as a serious warning that holds dreadful repercussion on Syrian people and the whole region. SE emphasizes the importance and urgency of the UN adopting sanctions against Syrian regime, disabling him from getting access to arms.
March 19, 2012. According to ABC News," A Russian military unit has arrived in Syria, according to Russian news reports." On the same news, Alarabyia said, "The mission of the vessels was not disclosed, but one was reported to be carrying a unit of "anti-terrorist marines" and the other, a military tanker."
Coincidentally, other report issued by Reuters on the same day, said that," Moscow has continued to supply Syria with firepower while the United States, European Union and others have imposed arms embargoes in response to Syrian President Bashar al-Assad's bloody crackdown on unrest" added by the same sources, "The Stockholm International Peace Research Institute (SIPRI) said Russia had supplied 78 percent of Syria's weapons imports during the past five years, contributing to a 580 percent increase in the volume of arms imports by Syria."
Dr Mazen Hasan, SEO founder, said," The Presence of Russian anti-terror troops, seemingly, to support Assad regime in the ongoing atrocities against Syrian and would provoke more oppression. We deplore Russia's constant attempts to aid the tyrannical Assad regime in suppressing the Syrian uprising. Unfortunately, Russia stance toward Syrian people, so far, is inconceivable and disappointing."
Syrian Expatriates urges the United Nations, and international community to hold its responsibilities toward protecting civilians under attacks by Assad forces, and to adopt the necessary resolution that ensures implementation of sanctions of arms and ammunition against Syrian regime.
http://abcnews.go.com/Blotter/russian-anti-terror-troops-arrive-syria/story?id=15954363
http://english.alarabiya.net/articles/2012/03/19/201791.html
http://www.nytimes.com/2012/03/20/world/middleeast/heavy-fighting-rocks-damascus-neighborhood.html