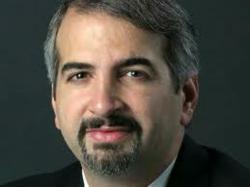 Syria (PRWEB) February 22, 2012
Syrian Expatriates Organization mourns the death of New York Times correspondent and Beirut bureau chief, Anthony Shadid, who died while covering the revolution in Syria on February 16th.
http://www.reuters.com/article/2012/02/17/us-usa-times-shadid-idUSTRE81G07A20120217
Anthony Shadid, age 43, winner of two Pulitzer Prizes for international reporting, a fluent Arabic speaker, who had dedicated his life to groundbreaking coverage of the Middle East, reportedly suffered a fatal asthma attack while attempting to leave Syria on horseback. as reported by Reuters.
James Zogby, President of Arab American Institute, said," With his passing we lose America's finest reporter on Arab World issues -- at the time when Americans need his work more than ever. The importance of Shadid's writings to Americans and Arabs cannot be overstated. His reporting was unique, reflecting both his understanding of the history and culture of the Arab World and his concern for its people."
http://www.huffingtonpost.com/james-zogby/anthony-shadid-death_b_1286256.html
Dr. Mazen Hassan, Founder of SEO, stated, "SEO mourns the big loss of the legendary journalist, Anthony Shadid, who risked his life in a mission to collect news inside Syria of what the Syrian regime tried to hide from public view. We will remember Anthony Shadid for his incredible sacrifice and contributions to the Syrian cause."
The tragedy of Anthony Shadid's death during his covert reporting mission is a reminder of the Syrian regime's continued ban on international media coverage and the desperate need for such coverage to take place without limitation, monitoring, and unnecessary risk to life. Shadid, a talented, inspiring, and tireless reporter, will not be forgotten by the SEO, the community at large, and the world.
###