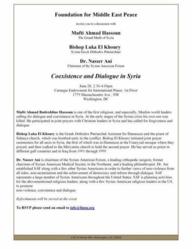 Washington DC (PRWEB) June 25, 2012
Syrian-Americans around the country are outraged to learn that Ahmad Badreddin Hassoun, the Grand Mufti of Syria, a senior religious position within the Assad regime, is invited to attend a panel in Washington DC on June 28th, entitled "Coexistence and Dialogue in Syria" [see invitation link here: http://bit.ly/MhkuwW
Hassoun is a close ally of Syrian dictator Bashar Al-Assad and has been a key propagandist to divert attention away from the ongoing massacres of civilians in Syria. Furthermore, in a public address this past October he threatened to activate 'martydom' operations in the US and Europe in response to any direct attack against the regime. [see video http://bit.ly/qx2a3c & VOA article http://bit.ly/PNNjCs
"We are concerned that Hassoun, upon entering the US, would perpetuate regime propaganda and continue his threats against Syrians and all those opposed to the Assad regime." said Dr Iyad Azrak, Chairman of the Syrian Expatriates Orgnaization.
Dr Azark, furthermore said,"The panel, sponsored by the Foundation for Middle East Peace at the Carnegie Endowment for International Peace, includes two additional Assad regime spokespeople. Bishop Luka El Khoury, Syrian Greek Orthodox Patriarchate and Syrian-American Physician Nasser Ani. Bishop El Khoury, similar to Mufti Hassoun, is part of the regime's loyal clergy and is regularly quoted by Syrian State news outlets discussing conspiracies to unseat Assad. Dr. Nasser Ani, chairman of the Syrian American Forum, helps coordinate between the Assad regime and loyalists in the US."
Syrian-Americans are calling for the foundation of Middle East Peace to withdraw their invitations and to cancel the event.
Syrian-American organizations have also appealed to DHS Secretary Napolitano to revoke Mufti entry authorization to the US, or to refer him to the appropriate security authorities once here.