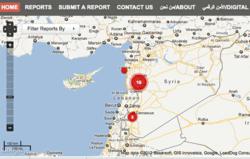 Syria (PRWEB) April 05, 2012
Syrian Expatriates is extremely disturbed by the growing number of reports that indicates an increase in number of alleged rape cases committed by Assad military personnel targeting women and girls, along with torturing children and encouraging troops to loot the houses they storm, former foot soldiers said.
http://www.sacbee.com/2012/04/03/4386322/military-atrocity-stories-leak.html
SEO board member, Louay Sakka, said," we recognize the difficulties associated with the documentation of alleged rape cases committed by Assad security forces. However, we can rely on reports issued by media outlets, individual interviews or comments as sources to approach this perplexing subject."
On March 18th, 2012 Chicago Tribune reiterates what Syrians who have fled the country said, describing some of tactics used by Assad forces "The secret police come in groups into our homes and take the women away to the police stations, They take the women because they want to draw the men out of hiding." as described in the report, alleged Syrian security forces sexually assault and rape women and girls.
http://www.chicagotribune.com/sns-rt-uk-turkey-syria-escapebre82g06p-20120318,0,7091654.story
A pioneer project called, Women Under Siege, a Women Media Center project that documents rape and other forms of sexual violence as a weapon of war, launched a crowd-sourced initiative to map instances of rape in Syria. In the site, they reported, " Moussa al-Kurdi, a physician and the chairman of the Arab Institute for Clinical Excellence, told Al-Jazeera on April 1 about two young girls he says are pregnant from rape. He said he received the report of rape via Skype "three days ago" from somewhere in southern Syria about two girls, 10 and 14 years old, who are part of a group of 160 to 210 refugee children, many of whom have had their parents "killed or kidnapped."
http://www.womenundersiegeproject.org/
https://womenundersiegesyria.crowdmap.com/reports/view/30
Syrian Expatriates condemns targeting of women in the time of conflict. Syrian Expatriates urges the UNICEF, as the International agency responsible for protecting women Rights, to hold an investigation about the alleged reported cases of rape conducted by Assad forces, and to exert pressure on the international community to put a stop to such atrocities.