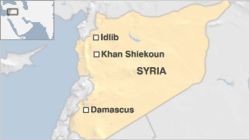 Idlib, Syria (PRWEB) January 27, 2012
It deeply saddens the Syrian Expatriates Organization to report follow up to Press Release entitled "The Syrian Expatriates Organization Participated in a Silent Demonstration in Support of the Protection of Medical Personnel in Syria" http://www.prweb.com/releases/syrian-expatraites-org/protect-medical-personnel/prweb9132515.htm
The ICRC reported today that the head of the Syrian Arab Red Crescent branch in the northern town of Idlib Mr. Abdulrazak Jbeiro was shot in the head while on the road between Damascus and Idleb on January 25 2012. He was riding in a vehicle that was clearly marked with the symbol of the Red Crescent.
http://www.time.com/time/world/article/0,8599,2105350,00.html
The targeting of medical personnel by the Syrian regime has been well documented, and Jbeiro's death is reflective of the dangers that medical personnel in Syria continue to face in this conflict. It is clear that medical workers continue to be caught in the crossfire, and as a result are unable to do their invaluable work without fearing for their lives.
http://www.amnesty.org/en/news-and-updates/report/climate-fear-syrias-hospitals-patients-and-medics-targeted-2011-10-25
The Syrian Expatriates Organization condemns Abdulrazak Jbeiro's killing and demands an end to the deliberate targeting of medical personnel.
The Syrian Expatriate Organization would like to draw attention to the Declaration of Geneva that: considerations such as creed, political affiliation or any other factors should never intervene in doctors' responsibilities to provide medical care to those in need, and prohibits the use of medical knowledge by doctors to violate human rights and civil liberties, even when doctors themselves are under threat. Health care professionals must be protected and supported in their fundamental moral, ethical and professional responsibilities to treat the sick and injured, without discriminating political influence or fear of state reprisal. In turn, those in need of medical care must be protected from abuse by medical staff. http://www.icrc.org/ihl.nsf/full/380
The Syrian Expatriates Organization extends its sincere condolence to the Jbero family, the Syrian People, and the ICRC.
The Syrian Expatriate Organization asserts the demand for protection of medical personnel in accordance with the Declaration of Geneva; of which Syria has been a signatory since Dec 8, 1949. The Syrian Expatriates Organization presses the need for Humanitarian organizations and the International Committee of the Red Cross (ICRC) to obtain full access to all medical, health, and humanitarian sectors inside Syria.
For more on the subject, please refer to the following press release dated 1/25/2012:
http://www.prweb.com/releases/syrian-expatraites-org/protect-medical-personnel/prweb9132515.htm
###