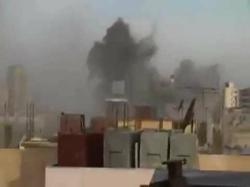 Syria (PRWEB) March 10, 2012
Syrian Expatriates decries the failure of UNESCO to expel Syria from its human rights committee.
While the UNESCO resolution reprimanding Damascus for the continued widespread and systematic violation of human rights and fundamental freedoms by the Syrian authorities, is a good step; its power is diminished as long as Syria under the Assad regime remains on the council.
Hillel Neuer, executive director of UN Watch, which has been campaigning to get Syria expelled from UNESCO called the decision scandalous."For UNESCO to keep Assad on a human rights committee while his regime mercilessly murders its own people is simply immoral, indefensible and ban insult to Syria's victims," he said.
Syrian Expatriates considers the UNSECO resolution a step in the right direction, it will continue pressing to oust Syria from the Human Rights committee. The lack of further action to expel Syria from the Human Rights Committee, as requested by several UNESCO members, could be perceived by the Assad regime as a green light to commit more atrocities against civilians that will go unpunished by the international community.
http://in.reuters.com/article/2012/03/08/unesco-syria-idINDEE8270FP20120308