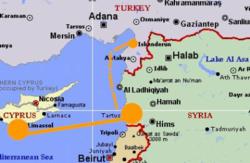 Tartus, Syria (PRWEB) January 17, 2012
Syrian Expatriates Organization outraged over the reported delivery of ammunition to Assad government in Syria. A Russian ship laden with ammunition has reportedly docked at a port in Syria despite reporting to Cypriot authorities it was destined for Turkey, sources told Reuters on Friday 01-13-2012.
Reuters report: Source in Cyprus, where the ship made a stop for refuelling on Tuesday January 12th/ 2012, said the ship had given written assurances its destination would not be Syria but Turkey. It was allowed to sail a day later, whereupon it dropped off conventional tracking systems, switched course and reached Syria on Thursday. "It had bullets. There were four containers on board," a Cypriot official told Reuters.
http://www.reuters.com/article/2012/01/13/syria-russia-ship-idUSL6E8CD4DD20120113
Turkish Sources confirmed on Monday 01-16-2012 , the delivery of nearly 60 tons of what it called "dangerous cargo." to Syria in violation of an EU arms embargo.
http://www.sundayszaman.com/sunday/newsDetail_getNewsById.action?newsId=268720
Syria has been under extensive crackdown by Syrian government and systematic abuses against civilians for more than 10 months as reported by Human Rights Watch Organization, http://www.hrw.org/news/2011/11/11/syria-crimes-against-humanity-homs
In December 2011 the United Nations reported More than 5,000 people have killed since the start of the uprising in Syria, the United Nations human rights chief had sounded the alarm that a crackdown and fresh eruption of violence could be imminent in one of the country's key cities.
http://www.un.org/apps/news/story.asp?NewsID=40708&Cr=syria&Cr1=
The United States and European Union have already banned arms supplies to Damascus- Syria.
Reuters reported: Russia has voiced strong opposition to arms embargoes and has promised to uphold arms contracts with Syria, one of its top weapons customers, despite increasing international pressure.Russia continue to maintain contracts with Syria worth at least $4 billion as of 2011.
http://rusembassy.in/index.php?option=com_content&view=article&id=3536%3Arussia-opposes-arms-embargo-on-syria--lavrov&catid=18%3Anews-from-russia&lang=en
http://www.reuters.com/article/2012/01/13/syria-russia-ship-idUSL6E8CD4DD20120113
http://www.france24.com/en/20120114-russian-arms-ship-reaches-syrian-port-bashar-al-assad
The Syrian Expatriates organization demands firm implementation of sanctions that prohibit the import of arms and weapons to Syria. These weapons have the potential of being used by Syrian regime against civilians. Syrian Expatriates Organization asks the Russian government to stop enabling the criminal behavior of the Assad regime by supplying weapons that could be used to harm civilians.
http://www.guardian.co.uk/world/2011/jun/08/syria-assad-un-sanctions-resolution
###