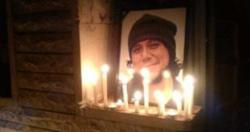 Homs, Syria (PRWEB) May 31, 2012
Syrian Expatriates mourns the death of the dedicated Syrian filmmaker, photographer, and citizen journalist, Basel Shehadah, who was killed in the embattled city of Homs, one of the stronghold of opposition to Syrian President Bashar Assad, according to nydailynews.
http://www.nydailynews.com/news/world/syracuse-university-fulbright-scholar-killed-filming-clashes-syria-article-1.1086251#ixzz1wOgoSDRO
Shehadah, a 28-year-old from Damascus, was a Fulbright Scholar pursuing a master of fine arts degree in film at the College of Visual and Performing Arts, Syracuse University. He left the program and made his way back home to Syria again, because he could not deal with the guilt that nearly everyone he knew was back in Syria, fighting and sometimes dying for what they believed would be a better country.
http://www.huffingtonpost.com/2012/05/29/bassel-al-shahade-syracuse_n_1554168.html?ref=college
Tariq Laham, close friend of Basel Shehadah, wrote, "During the school days, we had to write a paragraph about someone we know, who gave his life for the nation as a martyr. So at that time we used to steal the topic from some biography books, since how on earth kids like us were going to know someone like this! Now what I'm really looking forward to, is to go back to those days .. Shouting 'teacher…teacher..please I want to read my story, it's a real I swear to God, the guy I wrote about I will meet him in college then we'll go on hiking trips together .. I will go to concerts he is playing in and movies he had made! And guess what teacher! He wasn't killed by the enemies! He was killed by his own people, like him and us! They kill him because he said no to killing the innocents and stood in the side of justice and freedom!' I don't know how many classes it was going to take me telling your story, my friend Basel!"
Another friend and fellow activist from Homs, who goes by the name Abo Muhammad, said "The world was always too small for Basel, and he could never feel free enough. When the Revolution started in Syria, Basel felt that this was an opportunity for him to feel what it's like to be free in his homeland. He knew this was a once in a lifetime opportunity and didn't want to miss it."
SEO extends its deepest condolences to the family of Basel Shehadah, and to all his friends, acquaintance, and all people whose lives he touched.