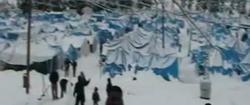 Yayladagi, Turkey (PRWEB) February 02, 2012
"Syrian Refugees in Turkey Call For International Help". This is how the National Public Radio (NPR) titled an article addressing the worsening situation of Syrian refugees in Turkey's camps.
According to Turkish Red Crescent, more than 9,450 Syrian refugees have fled to camps in southeastern Turkey as Assad's militias crackdown in Syria intensifies.
In June 2011, Actress Angelina Jolie, a longtime goodwill ambassador for the United Nations' refugee agency, made a visit to Syrian refugee camps in Turkey to draw attention to the hardships faced by Syrian families there. "I appreciate the opportunity to visit this camp and talk to these families," Jolie said, according to the UNHCR. "It is a really complex situation and everyone needs to be doing all they can for the innocent families caught in the crossfire. I will be following this situation very closely and doing everything I can."
Moreover, in January of this year, a strong snow storm hit the south eastern part of Turkey where Syrian refugee camps are set up. They woke up without electric power, nor enough blankets to protect them from the bitter cold of January. "Winter in the refugee camp has been hard. It's been freezing cold, and on Sunday, there was a blanket of snow around 40 – 60 cm (16 – 24 inch) high on the ground. The weather makes our living conditions difficult, to say the least. The tents are made out of non-water resistant cloth, so they're constantly soaked through. Water drips from walls and from the ceiling. To make matters worse, we've had no electricity since before dawn on Sunday, so it's impossible to keep warm. Apparently the electricity was cut because it has been snowing so much lately. We've asked the Turkish Red Crescent for things like blankets, but they always tell us they don't have any." A Syrian refugee described the situation on the ground to France 24 News Channel.
In addition, tens of videos uploaded to YouTube website showing their anguish during January's bad weather.
In the following video, a Syrian refugee says "Tents fell down on our heads. We don't have power and water. Restrooms are far from tents. Our laptops and cell phones were confiscated by Turkish government to prevent us from showing the world our anguish. Children are feeling cold. We will never give up until we topple Assad regime. We will sustain our patience until we get our victory".
http://www.youtube.com/watch?feature=player_embedded&v=zKWsOJWTAQ4
As a result, The Syrian Expatriates Organization (SEO) is deeply concerned over the worsening situation of Syrian refugees in Turkey. SEO urgently calls on international organizations to step in and take serious action to ease and end their hardship and suffering.
SEO highly appreciates the Turkish Red Crescent efforts and those of the Turkish Government and many others' to provide assistance to the refugees and help alleviate their suffering.
References
http://www.npr.org/2011/10/12/141247042/syrian-refugees-in-turkey-call-for-international-help
http://articles.cnn.com/2011-06-18/world/turkey.jolie.visit_1_refugee-agency-unhcr-goodwill-ambassador?_s=PM:WORLD
http://observers.france24.com/content/20120123-turkey-syrian-refugees-say-not-enough-done-to-protect-cold-snow-camps-hatay-province
###