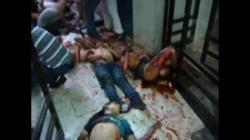 Michigan, U.S. (PRWEB) July 02, 2012
Syrian Expatriate Organization believes the UN Action Group on Syria's Geneva Communique represents a failure by the international community to respect the democratic aspirations as well as the safety and security of the Syrian people. The recently issued UN peace plan does not explicitly call for Assad's removal from power and provides no actionable means to guarantee the safety and security of Syrian civilians.
See: http://www.csmonitor.com/USA/Foreign-Policy/2012/0630/Not-much-progress-at-Geneva-meeting-on-Syria-violence
"We were hopefull that, the UN Action Group on Syria assembled in Geneva on June 30 will pave a path towards ending the current conflict in Syria. However, the plan can only be described as feckless as it does not explicitly call for Assad's departure from power and calls for a unity government composed of pro-democracy activists as well as members of Assad's tyrannical regime."Dr Iyad Azark, Chairman of SEO, said " Given the extent of the atrocities committed by Assad and his henchmen, we believes it is both unacceptable and impossible for a future, democratic Syria to have a government which includes members of the current regime.
SEO believes that, the current "peace plan" will allow Assad to buy more time, strengthen his military and continue slaughtering civilians across Syria, furthermore, SEO views this communiqué as a clear signal to Assad that the international community is not willing to act and that he can continue to act with impunity.
Dr Iyad Azrak, said, "Given the extent of Assad's crimes against humanity, which have left over 16,000 killed, tens of thousands injured and tortured and hundreds of thousands displaced, it is sad to see how unwilling the international community is to protect the Syrian people."
http://www.amnestyusa.org/news/news-item/syria-fresh-evidence-of-armed-forces-ongoing-crimes-against-humanity
http://www.victims.syrianrights.org/
SEO views the acceptable peace plan would call for 1) the immediate withdrawal of Syrian military forces from civilian zones, 2) the immediate ouster of Assad and members of his regime, 3) the establishment of safe zones, humanitarian corridors and a no-fly zone over Syria and 4) a total arms embargo against the Syrian military. Anything short of this will not lead to a prompt resolution of the conflict.