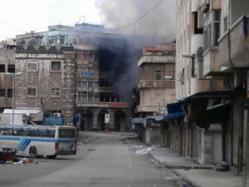 Homs-Syria (PRWEB) February 29, 2012
Syrian Expatriates Organization (SEO) expresses its deep concerns regarding the recent news of massive killing of Syrians by Assad forces in several areas in Syria. SEO urges the Friends of Syria and the United Nations, to adopt the necessary Resolution that ensure the protection for Civilian in accordance with the International Humanitarian Law, of the Geneva Convention, of which Syria is signatory in 1949, which includes details relative to the Protection of Civilian Persons in Time of War. Geneva, 12 August 1949.
http://www.icrc.org/ihl.nsf/full/380
According to the report by CNN on Feb 27th, "At least 144 people were killed Monday across Syria, including 64 who died in a "horrifying massacre" at a checkpoint in Homs province, while attempting to flee shelling in the Baba Amr neighborhood, said, the Local Coordination Committees of Syria, a network of opposition activists. A total of 68 corpses were found in the area, in farmland in western Homs province, said the opposition Syrian Observatory for Human Rights,"
http://www.time.com/time/world/article/0,8599,2107752,00.html
http://www.cnn.com/2012/02/27/world/meast/syria-unrest/index.html
On Feb 27Th, USAToday said," Pictures and videos taken by local activists and citizen journalists from the Syrian Network for Human Rights show very few buildings remaining intact. According to that group, 425 people have been killed and 1,800 injured in Baba Amr in the past 24 days."
http://www.usatoday.com/news/world/story/2012-02-27/syria-Homs-UN-rights-council/53275492/1
Dr Abdullah B. Shahin, Board member of SEO, said," For more than 24 days, the Besieged city of Homs has been under barbaric attacks by Assad Forces. Beside humanitarian deterioration, complete shutdown of all communications, and extensive damage, we are watching extremely disturbing news reports that reflects spreading carnage."
Syrian Expatriates Organization presses over the urgent demand to adopt all necessary measures by United Nations, The Friend of Syria, and UNICEF that will ensure protection of civilians in Syria, and urging all freedom supporters and people of conscience to act today to stop the slaughter of the Syrian people by the forces of Assad regime.
###