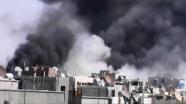 (PRWEB) April 18, 2012
The escalation of Assad's regime bloody crackdown, and his disregard toward the international obligations, and the frantic race to silence the opposition, SEO emphasize the urgent necessity for immediate deployment of more UN monitors to stronghold areas, specially Homs, Idib, Ref Damascus, and Duraa.
Reuters report states, "Despite the seven-day-old truce agreement between government and rebel forces, explosions rocked the battered Khalidiyah quarter of Homs as the army resumed what has become a daily barrage of heavy mortar shelling, and plumes of black smoke drifted over the rooftops."
http://ca.reuters.com/article/topNews/idCABRE83E0KP20120418
SEO, moreover, demands the full implementation of the UN envoy, Kofi Annan's, peace plan, which include, all military heavy weaponry withdraw from cities, complete ceasefire, release of all detainee. SEO supports the UN rights to use its own resources as an aid measures that enable it to successfully accomplish its mission inside Syria.
http://www.nytimes.com/2012/04/19/world/middleeast/accord-near-on-full-deployment-of-cease-fire-monitors-in-syria.html?_r=1
Reiterates the UN Secretary General, Ban Ki-Moon, "The United Nations Security Council is expected to authorize deploying a full mission of 250 monitors to Syria after it takes up the issue Wednesday, but Secretary-General Ban Ki-moon questioned whether even that number would be sufficient."
http://www.csmonitor.com/World/Latest-News-Wires/2012/0417/Syria-Secretary-General-says-UN-may-not-go-far-enough-with-monitors
Dr Mazen Hasan, SEO founder, said, "We demand immediate implementation of more UN monitors inside Syria, to closely monitor the fragile presumed ceasefire, which has broken by Assad forces on many occasion. Furthermore, considering the vast geographical area of the country, and the large number of protest points, which exceeded 720 points on Friday April 13th, it became a matter of urgency to deploy more than 3000 UN monitors inside Syria, to better obtain the needed information about Assad regime compliance with the UN peace plan."
The Syrian Expatriates is a leading nonprofit organization of Syrian Americans and Syrian Canadians that reflects the diversity and talent of the Syrian nation. Its mission is to support the establishment of a free and democratic Syria. In addition, the Expatriates provides humanitarian relief to those in need and works towards the social, political and economic development of Syria.