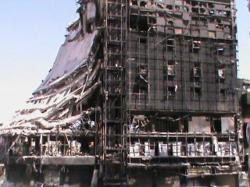 (PRWEB) April 24, 2012
On Monday April 23th, The United Nations (UN) political chief B. Lynn Pascoe told the UN Security Council that the ceasefire proposed in the Annan plan remains incomplete. "The Syrian government is still using heavy weapons and has failed to fully implement the six-point peace plan which President Bashar Assad's government approved." Pascoe said. "Human rights violations are still perpetrated with impunity."
The Syrian Expatriates Organization raises serious concerns about the UN's commitment to firmly and fully implement the Annan peace plan in the face of such flagrant violations of the agreement by the Assad regime. While SEO appreciates the updates by the UN on Assad's failure to fulfill his agreement, it stresses the need for the UN to acknowledge that the peace plan will not succeed if Assad continues to lay siege to Syrian cities and violate human rights.
http://www.foxnews.com/world/2012/04/23/syria-not-fully-implementing-peace-plan/#ixzz1suBJlm3T
Despite calls for a ceasefire, the Syrian regime continues to commit bloody atrocities in Syria. CNN reported on April 23 that, "Heavy shelling hit the Syrian city of Hama on Monday, opposition activists said. At least 80 people were killed Monday in Syria, 50 of them in Hama and 21 in Idlib, according the Local Coordination Committees of Syria, a network of opposition activists. Dozens of people were wounded in Hama, which was visited Sunday by international observers, the activists said."
http://www.cnn.com/2012/04/23/world/meast/syria-unrest/
Dr Iyad Azrak, Chairman of the SEO, said," We believe that the UN Peace Plan was issued primarily to halt the bloodshed in Syria, and to prevent atrocities and massacres, which have become the norm in Syria. Unfortunately, eleven days have passed with no sign of Assad complying with international calls of UNSC to stop the violence. We are skeptical about the UN's full and firm implementation of the peace plan. We urge the UN to expedite the deployment of the 300 UN monitors inside Syria, in addition to setting a firm deadline for the Assad regime to meet their obligations under the UN Peace Plan. We ask the UN and other humanitarian organization consider implementing humanitarian corridors or a buffer-zone to provide relief for the Syrian people who are suffering from the violence."
The Syrian Expatriates is a leading nonprofit organization of Syrian Americans and Syrian Canadians that reflects the diversity and talent of the Syrian nation. Its mission is to support the establishment of a free and democratic Syria. In addition, the Expatriates provides humanitarian relief to those in need and works towards the social, political and economic development of Syria.