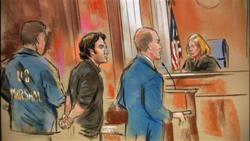 Virginia, U.S. (PRWEB) July 21, 2012
"Mohamad Soueid, a naturalized American, was convicted of acting as a Syrian agent to spy on dissident leaders in the U.S. was sentenced to 18 months in federal prison on Friday July 20th-2012, for providing information to the Syrian secret police about US-based dissidents protesting the Syrian government's crackdown." according to the Christian monitors.
http://www.csmonitor.com/USA/Justice/2012/0720/Syrian-American-sentenced-to-18-months-for-spying-on-US-based-dissidents
SEO appreciates the efforts that led to the arrest of Mohamad Soueid, who, according to the Assistant Attorney General Lisa Monaco's statement, "acted as an unregistered agent of the Syrian government as part of an effort to collect information on people in this country protesting the Syrian government crackdown." SEO would like to thank the U.S. Attorney for the Eastern District of Virginia Neil MacBride, whose office prosecuted the case, and who said that" Soueid's actions bolstered a regime that is murdering its own people."
SEO board member, Oubab Khalil, said, "As a Syrian Community, we regret the acts of spying by Mohamad Soueid against Syrians in U.S. It is incomprehensible that a person who enjoy the freedom in the U.S. will maintain his support to Assad criminal regime, assisting him by spying on Syrians in U.S. We are grateful for the U.S. justice system for early detection of the spying action, prompt investigations, and a satisfactory sentence that serve the best for U.S. and Syrian Americans."
The Syrian Expatriates Organization is a leading nonprofit organization of Syrian Americans and Syrian Canadians that reflects the diversity and talent of the Syrian nation. Its mission is to support the establishment of a free and democratic Syria. In addition, the SEO provides humanitarian relief to those in need and works to promote the social, political and economic development of Syria.