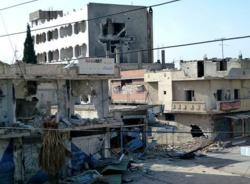 Syria (PRWEB) April 25, 2012
In the light of the recent soaring retaliation by Assad military forces against civilians in areas visited by delegation of UN monitors, seemingly, in a pattern of massive punishment, Syrian Expatriates Organization urges the United Nation to consider a mandatory long term placement of UN monitors inside these areas, to provide protection for civilians, and to prevent any possible revenge attack by Syrian regime.
On Wednesday April 25th, CNN news reports, "In what appeared to be a disturbing pattern of retaliation, security forces attacked hot spots -- including the cities of Hama and Douma, after U.N. monitors left the areas."
http://www.cnn.com/2012/04/25/world/meast/syria-unrest/?hpt=wo_c2
New York Times said," Government forces followed the pattern established since the cease-fire, resuming attacks where the United Nations had just visited, while soldiers remained largely quiet in the places where the unarmed monitors were walking around. The Damascus suburb of Douma, which staged a massive anti-government protest when the observers visited Monday, was shelled heavily on Wednesday morning, activists said."
http://www.nytimes.com/2012/04/26/world/middleeast/violence-in-syrias-capital-even-with-a-cease-fire.html
On the same topic, the Telegraph said, on Monday April 23th, "Syrian forces shelled a district of the central city of Hama on Monday and opened fire on residents, killing at least 20 people, activists said. Furthermore, the incident occurred in the Arbaeen neighborhood a day after United Nations observers, monitoring an 11-day-old ceasefire agreement, visited Hama, a hotbed of a popular revolt against President Bashar al-Assad."
http://www.telegraph.co.uk/news/worldnews/middleeast/syria/9221170/Syrian-forces-shell-Hama.html
Dr Nadim AlSadat, SEO board member, said, "the presence of UN monitors inside Syria was primarily, to provide a respite from Assad aggression, and to halt the bloodshed. To the Contrary, UN monitor existence brought more catastrophes. This could be attributed to the barbaric mentality of Assad regime, however, we place the responsibility of the bloodshed in Hama and Douma, on the slow implantation of the UN peace plan, the delay in the deployment of UN monitors inside Syria, and the lack of prospective vision of the feasible ways to protect civilians from retaliation."
SEO demand long term placement of UN monitors inside all areas and cities they visit, and urgent deployment of UN monitors inside Syria. Moreover, SEO urges the UN to consider the adoption of Humanitarian corridors and buffer zone, which would facilitate the access to areas in dire needs.