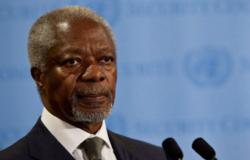 U.S. (PRWEB) July 06, 2012
Syrian Expatriates Organization believes that UN Peace Envoy Kofi Annan may not be the best man to negotiate a settlement in the Syrian conflict. According to the Washington Post, Since the implementation of Kofi Annan's "Six-Point Plan" the war in Syria has spiraled out of control with Assad's forces performing daily massacres leaving tens of thousands killed or injured. Annan's failure to mobilize the international community to defend the helpless people of Syria has only strengthened the resolve of Assad and his international allies.
http://www.washingtonpost.com/opinions/will-syria-be-kofi-annans-tragedy-redux/2012/07/04/gJQAvTs7NW_story.html
http://turtlebay.foreignpolicy.com/
According to the UN press release and BBC news, Annan was the UN official in charge of peacekeeping during both the Rwandan and Bosnian genocides in the 1990s. The fact that Annan was unsuccessful in mobilizing the international community to prevent these two genocides in a timely manner creates some consternation within the Syrian Expatriates Organization and the Syrian community at large.
http://www.un.org/News/Press/docs/2000/20000710.sgsm7489.doc.html
http://news.bbc.co.uk/2/hi/africa/3573229.stm
Dr Bakr Ghbeis, SEO board member, said" Since Kofi Annan was charged with negotiating a resolution to the conflict in Syria, Bashar al-Assad has ramped up his siege against the Syrian people killing and maiming tens of thousands. Despite several rounds of negotiations and implementation of UN monitors, Mr. Annan and the United Nations have failed to protect the safety of Syrian civilians. During the course of the current conflict, it appears as though Annan has implemented a policy of appeasement with his negotiation techniques focused more on meeting the demands of Bashar al-Assad, Russia, and China rather than those of the Syrian people."
SEO considers that a "balanced approach" which takes into account the demands of the Syrian regime and its allies is unwarranted as it will only give Assad more time to accumulate weaponry and continue to besiege Syrian cities.
The Syrian Expatriates Organization views that due to the complexity of the Syrian conflict, any potential UN Peace Envoy should 1) demonstrate prior success in mobilizing the international community to act in protecting civilians and 2) demonstrate prior success in negotiating resolutions to internal conflicts, And Failure to promptly mobilize the international community and end Assad's reign of terror may lead to a genocide that will rival those of Rwanda and Bosnia in gruesomeness and death toll.