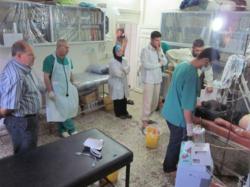 (PRWEB) August 09, 2012
Syrian Expatriates Organization (SEO) calls on international aid organizations to help provide medical supplies to Syrian hospitals and field clinics. A recent World Health Organization (WHO) statement indicated that many hospitals within Syria are no longer able to provide medicines to those with both chronic and acute conditions. Syria's pharmaceutical and medical device industries have all but collapsed over the course of the 17 month uprising. SEO believes Bashar al-Assad's "scorched earth" policy is responsible for the current medical crisis within Syria.
http://www.reuters.com/article/2012/08/07/us-syria-crisis-health-idUSBRE8760SP20120807
According to a recent WHO report, Syrian hospitals are no longer able to provide care to patients with conditions such as heart disease, cancer, kidney disease and stroke. Furthermore, many field hospitals do not have the medications or supplies to care for those injured in the current conflict. According to a recent report by the CBC, field hospitals inside Syria are seeing an influx of patients suffering from injuries resulting from air raids, tank shelling and mine explosions. These field hospitals are suffering from shortages of anesthetics, pain medications and antibiotics.
http://www.cbc.ca/player/News/World/ID/2264490843/?page=6
Many aid organizations such as the Red Cross, Red Crescent, United Nations as well as many governments are currently not meeting the call for increased medical aid inside Syria.
http://www.washingtonpost.com/world/middle_east/red-cross-temporarily-pulls-some-staff-out-of-syria-due-to-fighting/2012/07/27/gJQAS3dIDX_story.html
While SEO acknowledges the inherent risks in smuggling medical aid inside Syria, there are still many individuals and organizations willing to take these risks to help those in need. SEO calls on international governments and organizations which are hesitant to provide aid directly inside Syria to collaborate with those organizations and individuals who are working inside Syria.
SEO believes that the current medical crisis inside Syria emphasizes the importance of establishing humanitarian corridors, so that adequate aid can be provided. Furthermore, SEO condemns the Syrian regime's daily shelling and bombardment of field hospitals treating the sick and injured inside Syria.
The Syrian Expatriates is a leading nonprofit organization of Syrian Americans and Syrian Canadians that reflects the diversity and talent of the Syrian nation. Its mission is to support the establishment of a free and democratic Syria. In addition, the Syrian Expatriates provides humanitarian relief to those in need and organizes and sponsors efforts to support the social, political and economic development of Syria.