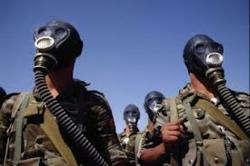 Washungton, DC (PRWEB) December 06, 2012
SEO and the Union of Syrian Medical Relief Organizations calls on public health authorities in the World Health Organization (WHO), the United Nations (UN), and other international aid agencies to urgently help coordinate and implement a preparedness plan for the Syrian people under threat of exposure to chemical weapons. On Monday Dec 3rd 2012, U.S. officials raised the alarm about perceived Syrian government preparations to use chemical weapons against its own people in an attempt to quell the 22 months of revolution to topple the Assad regime. Education on first aid, protection, and treatment of individuals exposed to chemical weapons should be provided to Syrian medical staff and the civilian population through any and all channels available to the international community.
See: http://www.kesq.com/news/U-S-warns-Syria-not-to-use-chemical-weapons/-/233092/17631454/-/ad9mm6/-/index.html
"Most health care workers and civilians inside Syria have limited or no experience recognizing the signs and symptoms caused by the toxicity of chemical weapons," said SEO board member Dr. Iyad Azrak. "We are calling for the urgent distribution of educational information to initiate a management plan for chemical exposure. We also urge the United Nations and international community to do all within their power to secure chemical weapons and chemical weapons plants inside Syria in order to prevent a horrendous scenario involving the mass death of civilians," said Azrak.
SEO believes the communication has to include a description on the general characteristics of chemical agents; the expected clinical presentation, possible methods of diagnosis, prophylaxis, and treatment of diseases that may be caused by deliberate chemical agent-release. SEO stresses that the key point is decontamination and protective barrier, which necessitate the need to immediately distribute medical devices needed to protect civilians from the potential damage of these weapons.
The Syrian Expatriates Organization is a leading nonprofit organization of Syrian Americans and Syrian Canadians. Its mission is to support the establishment of a free and democratic Syria. he SEO provides humanitarian relief to those in need and works to promote the social, political and economic development of Syria.
The UOSSM is a humanitarian, non-governmental, independent organization, created following the deadly events in Syria, to provide medical and humanitarian aid to Syrian. UOSSM was established by 14 medical and relief organizations, and includes hundreds of physicians of mainly Syrian origins distributed in the United States, Canada, in Europe and in different Arab countries.