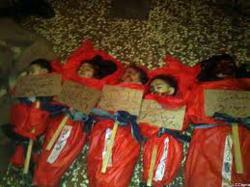 (PRWEB) January 30, 2012
The Syrian Expatriates Organization is deeply concerned by a statement issued by UNICEF on January 27 2012 regarding the number of children killed due to the violence in Syria. UNICEF stated that as of January 7 2012 at least 384 children have been killed, and at least 380 children have been detained by the Assad regime.
http://www.reuters.com/article/2012/01/27/us-syria-un-children-idUSTRE80Q0V920120127
Reported by ABC:"Armed forces loyal to President Bashar Assad barraged residential buildings with mortars and machine-gun fire, killing at least 30 people, including a family of women and children during a day of sectarian killings and kidnappings in the besieged Syrian city of Homs, activists said Friday."
http://abcnews.go.com/International/wireStory/activists-syrian-city-homs-siege-15454270#.TyRQz8WmhmM
The United Nations, previously, had issued a report on November 28 2011 stating at least 256 children had been killed by Syrian government forces. The investigation by the United Nation's independent, international commission found patterns of summary execution, arbitrary arrest, enforced disappearance and torture. It even included accounts of sexual violence and abuse, some of it directed against children.
http://www.guardian.co.uk/world/2011/nov/28/syria-troops-kill-children-un-report
The Syrian Expatriates organization said:The Syrian government has clearly failed to fulfill their legal obligation to protect children and uphold their rights, as evidenced by the 380 children UNICEF says were killed. As a result of this conflict, Syrian children have been subject to violence, torture, and death.
The Syrian Expatriates Organization fears the possibility of continuance of the systematic killing and illegal detention of children, particularly after the withdrawal of the Arab League Monitors.
Syrian Expatriates Organization calls upon the international community for immediate intervention to stop the violence against children and the general population.
The Syrian Expatriates Organization, also believes all human rights and humanitarian organizations should be allowed full access inside Syria in order to advocate and document clearly the needs of children in Syria as a result of this brutal conflict.
###