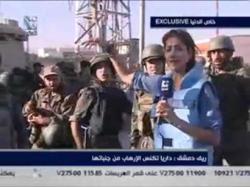 Michigan, U.S. (PRWEB) August 30, 2012
The Syrian Expatriates Organization (SEO) strongly condemns pro-Assad TV station al-Dunya and Michelene Azar for their disturbing and misleading coverage of the aftermath of a recent massacre in Darayya, Syria. Michelene Azar is seen in this report callously mocking the corpses of victims of the massacre and interrogating injured women and children regarding who held ultimate responsibility for these crimes. Reports estimate that at least 300 civilians were killed by Assad forces in Daraya.
http://www.bbc.co.uk/news/world-middle-east-19391466
Al-Dunya is a pro-Assad TV station that has served as an important propaganda tool for the Assad regime. While many past reports by this station have been disturbing and clearly false, this most recent report from al-Dunya hits a new low. Journalist Michelene Azar is seen in this report interviewing a woman who was visibly injured asking her who she blames for the massacre that befell the city. She goes on to interview a visibly sad and nervous four year old girl lying beside her dead mother and injured brother. In the video she is seen mocking the corpses of the victims of the Assad regime stating "This is their religion. This is how they think." SEO believes such callous, inhumane and insensitive reporting on behalf of the al-Assad government represents an affront to the conscience of humanity. To march into a city that was recently devastated by Assad's forces and then try to convince the victims and the general public that these actions were carried out by pro-democracy rebels can only be described as heinous. SEO sees direct parallels between Assad's use of his media propaganda machine and those used by Hitler during World War II. Such abominable actions violate the tenants of journalistic integrity.
SEO hopes that the Reporters without Borders and the journalist societies across the world will join in condemning the actions of al-Dunya TV and Michelene Azar.