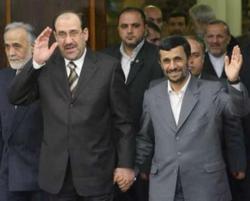 (PRWEB) September 20, 2012
SEO condemns the Iraqi government's role in providing Iran the airspace and passageway to transfer arms, weaponry and IRGC personnel into Syria. SEO views this stand by an Arab neighboring country is unacceptable and considers the Iraqi governments collaboration with the Assad regime is a direct intervention in the conflict, which will directly result in an aggravation of civilian death toll.
"Iran has been using civilian aircraft to fly military personnel and large quantities of weapons across Iraqi airspace to Syria to aid President Bashar al-Assad in his attempt to crush an 18-month uprising against his government, according to a Western intelligence report seen by Reuters." according to Reuters, added to the report a copy of which was provided by a UN diplomatic source "Planes are flying from Iran to Syria via Iraq on an almost daily basis, carrying IRGC (Iranian Revolutionary Guard Corps) personnel and tens of tons of weapons to arm the Syrian security forces and militias fighting against the rebels."
http://www.reuters.com/article/2012/09/19/us-syria-crisis-iran-iraq-idUSBRE88I17B20120919
Bakr Ghbeis, SEO board member, said "We are disappointed in the Iraqi's government role to bolster the Assad regime in its attempt to squelch the Syrian people's uprising for freedom and dignity. We expected the Iraqi government to support the Syrian people in their demands to end a dictatorial regime on par with Saddam Hussein's dictatorial regime, which the Iraqi people suffered from for over 40 years. We demand a complete and immediate halt of all Iranian transfer of weapons and IRGC to Syria. We urge the Iraqi government to comply with the sanctions against Assad regime that adopted by international community."
The Syrian Expatriates Organization is a leading nonprofit organization of Syrian Americans and Syrian Canadians that reflects the diversity and talent of the Syrian nation. Its mission is to support the establishment of a free and democratic Syria. In addition, the SEO provides humanitarian relief to those in need and works to promote the social, political and economic development of Syria.