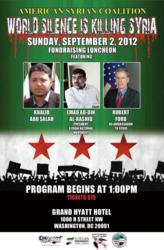 Washington DC, U.S. (PRWEB) August 29, 2012
Syrian Expatriates Organization (SEO) in association with the Coalition for a Democratic Syria is cosponsoring the event "Syria Rally: World Silence is Killing Syria" Sunday, September 2nd -2012 in Washington DC.
The Syrian people are calling upon the international community to show their support to stop the Assad's regime massacres and atrocities against civilians, to put an end to the ongoing annihilation of the cities, and to halt the Assad's forces violation of human rights against people in Syria. It is time for the American citizens to take the step and make sure their call is heard.
SEO asks pro-freedom and democracy in America to join us in the rally and to help raise the awareness about the Syrian plight for dignity and freedom. Syrian people are looking forward to the day of "post Assad" rebuilding a new Syria.
Participants will march from the Washington Convention Center starting at 9:00am. The rally will be held at Lafayette Square in front of the White House from 10am-12pm. A fundraising luncheon will follow the rally.
When: September 2nd -2012
The program will include the following:
9:00 AM
Assemble at DC Convention Center: 801 Mount Vernon Pl., NW, Washington, DC 20001
9:30 AM
Begin March
10:00 AM - 12:00 PM.
Rally at Lafayette Square (in front of the White House)
Guest speakers:
Dr. Hatem Bazian
Imam Zaid Shakir
Hip Hop artist Omar Offendum
1:00 PM - 3:00 PM
Fundraising luncheon for Syria
Grand Hyatt
1000 H Street NW, Washington, DC 20001
Guest Speaker:
Mr. Robert Ford, U.S. Ambassador to Syria
Prof. Emaddin Rachid, President of Syrian National Movement
Ticket Price: $75 (Discounted rate available if tickets are purchased in advance).
Co-Sponsors: Syrian Expatriates Organization, Syrian American Council, Syrian Emergency Task Force, Amnesty International, United to End Genocide (rally only).
The Syrian Expatriates Organization is a leading nonprofit organization of Syrian Americans and Syrian Canadians that reflects the diversity and talent of the Syrian nation. Its mission is to support the establishment of a free and democratic Syria. In addition, the SEO provides humanitarian relief to those in need and works to promote the social, political and economic development of Syria.