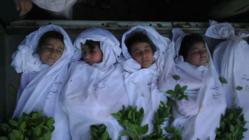 (PRWEB) August 25, 2012
Syrian expatriates organization criticizes the inaction of the international community to actively adopt and implement the necessary measures to stop the daily massacres and annihilation of the cities by Assad forces all across Syria. Recently, in a step viewed as to spread the fear and restore the state of terror, Assad regime intensified and expanded the military campaign to all provinces, cities, townships, and villages, and reportedly using the collective punishment as a tactic to spread the state of horror.
http://www.nytimes.com/2012/08/23/world/middleeast/Syria.html?pagewanted=all
The city of Daraya, Damascus suburb, has been subjected to heavy bombardment for consecutive three days, as reported by Reuters," al-Assad's forces had subjected Daraya township to a three-day bombardment from artillery, tanks, mortars, rockets and helicopter gunships in which at least 70 people were killed, 21 of them on Friday" furthermore, an activist in Daraya, who gave his name as Abu Kinan, told Reuters by phone," There are lots of bodies trapped in destroyed buildings and civilians are trying to flee towards Damascus," then, he expressed his fear, " The fear now is that the army will round up young men and summarily execute them, like it did in Mouadamiya,"
http://www.reuters.com/article/2012/08/24/syria-crisis-idUSL6E8JO9NY20120824
SEO board member, Mr Abdullah Ibraheem, said," At this stage, with the intensification of the military campaign by Assad forces all across Syria, and seemingly all attempts to diplomatically resolve the Syrian crisis has vanished, we believe that the inaction strategy of the international community is unacceptable. We are receiving tens of appalling videos and images reflecting the extent of horror in Syria. We are now counting our victims by massacres. There are more than 20,000 people being killed by Assad forces as reported by Human right group, and more than 200,000 people displaced."
http://online.wsj.com/article/SB10000872396390444358404577607132538293796.html
SEO urges the UN and the international organizations to hold its responsibilities in protecting civilian in the time of war, according to the Geneva convention IV. SEO stresses on the significant rule of the international community in protecting Syrian people, by actively support the rebels with all strategic means, and by the UNSC adopting the "No Fly Zone" .
http://www.icrc.org/ihl.nsf/full/380