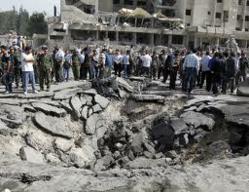 Damascus, Syria (PRWEB) May 12, 2012
Syrian Expatriates Organization condemns the bomb attacks on May 10 2012 against civilians in Damascus. According to Reuters "Two suicide car bombs ripped through the Syrian capital outside a military intelligence building, in AlQazzaz… killing at least 55 people and injuries 372 others." SEO warns the international community that by continuing to defer the decision to oust the Assad regime, the situation will continue to deteriorate and threaten the long-term stability of Syria.
http://www.reuters.com/article/2012/05/10/us-syria-idUSBRE8470O020120510
Free Syrian Army leader, Mr. Mustafa Al-Sheikh stated to SEO on Friday "The FSA denounces the Damascus terrorist attacks against civilians. We believe that these hostile attacks were orchestrated to instigate more fear and chaos among civilians, and to drag the attention of the United Nations and international community away from the ongoing atrocities committed by Assad forces across Syria. The Assad regime is the ultimate beneficiary of these attacks.
Mr. Hussein Sayed, President of the Supreme Council of the Syrian Revolution, a leading opposition organization inside Syria, released a statement exclusively to SEO: "We denounce the Damascus terrorist attacks. Our condolences go out to the families of the victims. These criminal attacks revive painful memories of the notorious Al-Azbakeya explosions in Damascus in the 1980's, which were orchestrated by then-president Hafez Al-Assad as a similar response to suppress a people's uprising. We do not believe the Assad regime's claims that these attacks are linked to radical extremist groups other than those who have ties to the Assad regime itself, such as the extremist group Hezbollah in Lebanon, which has a long history of similar terrorist attacks. Their leader threatened the Syrian people in a televised speech on May 11th , 2012 to either have dialogue with the Assad regime or face similar terrorist attacks."
http://en.wikipedia.org/wiki/1983_Beirut_barracks_bombing
SEO Board Member Dr. Nadim Al-Sadat also notes that "The intelligence building that was targeted and destroyed by the bombings is a notoriously well known compound used for torturing political prisoners. It is incomprehensible that an opposition group could target a building known to hold some of their members, and other innocent Syrians in unlawful detention. Images taken from the scene showing huge devastation are also similar to the images of the terrorist attack that claimed the life of former Lebanese Prime Minster Rafiq Al-Hariri in 2005. We urge the UN to hold an independent investigation to disclose all the facts and circumstances surrounding the explosions. We also urge the UN to press for the disclosure of the names of all the victims, and to return the victims bodily remains to their families."
The Syrian Expatriates is a leading nonprofit organization of Syrian Americans and Syrian Canadians that reflects the diversity and talent of the Syrian nation. Its mission is to support the establishment of a free and democratic Syria. In addition, the Expatriates provide humanitarian relief to those in need and works towards the social, political and economic development of Syria.