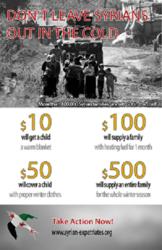 (PRWEB) November 12, 2012
SEO announces the starting of a new project "Don't Leave Syrians Cold" directed to benefit Syrians living under extremely harsh conditions, inside the country and in the refugee camps.
Describing the humanitarian situation in Syria as beyond the capacity of ICRC to cope with, Peter Maurer, president of the International Committee of the Red Cross (ICRC) said on Friday November 9th-2012 "The humanitarian situation is getting worse despite the scope of the operation increasing," On the same day, more than 11,000 refugees had fled Syria, in what is thought to be the highest daily exodus since the insurrection began 19 months ago, as reported by Freepnews.
http://www.freep.com/usatoday/article/1694315?odyssey=mod|newswell|text|FRONTPAGE|s
http://www.globalpost.com/dispatch/news/regions/middle-east/syria/121108/red-cross-cant-cope-syrian-crisis
Addressing the importance of the project, Dr Samah Bassas, SEO board member, said, "Winter season has already started to pose an additional dimension to the existing catastrophic humanitarian situation in Syria and the refugee camps, where about 400,000 registered refugees in Lebanon, Jordan, Turkey and Iraq are under extremely harsh weather. Our project is directed, mainly, to alleviate the suffering of our people, by providing basic needs to cope with the environmental conditions. We will work with local city councils and humanitarian groups on the ground to respond to their demand accordingly. We hope to generate enough fund to help our people in Syria living in miserable conditions."
http://www.guardian.co.uk/world/2012/nov/09/syria-refugee-high-11000-flee
SEO believes that the "Don't Leave Syrians Cold" project is significantly important at this time, it highlights one of the major challenges facing Syrian people on a daily basis. SEO would like to ask people to relieve the suffering of Syrians by making a simple donation.
For more information, please visit our website at:
http://www.syrian-expatriates.org